zoom workshops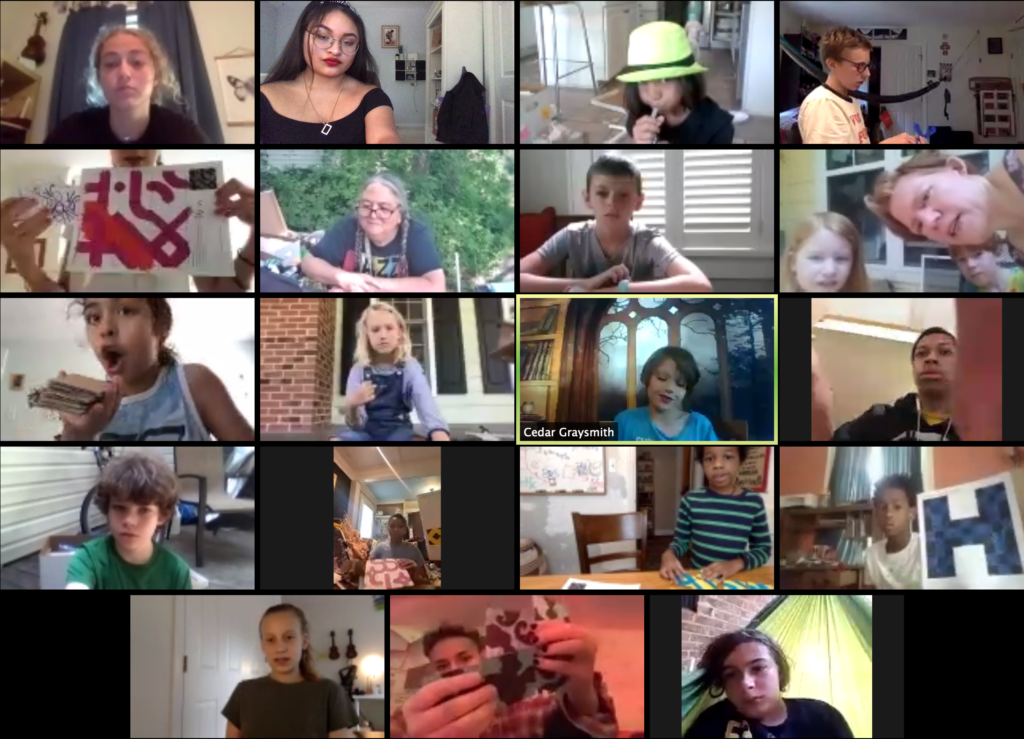 Clapping Hands Farm is pleased to offer an exciting array of connecting, engaging, interactive online workshops! Our goal in offering these workshops is NOT to keep people on screens! Quite the opposite! We aim to ignite some new skills, friendships, and passions that will have you and your family diving deep into creating and making. We want that "I can't stop Felting!" feeling, that quilting-before-breakfast feeling, that "I just created my own song on the Mbira!" feeling. Our goal is for the OFF SCREEN creating time that these workshops inspire to outweigh the Zoom time by a good measure.
For our Winter line-up we have selected workshops that we know work WELL online. 
We bring our fun, respectful, welcoming camp culture with us on Zoom. Each workshop includes a check-in, where campers and staff share how they are feeling and what their week has been like, and appreciations for anyone or anything that's happened recently.
scholarships
Our camp policy is No One Turned Away. There is always scholarship assistance at Clapping Hands Farm. Please do not let $ be an obstacle. If you would like to contribute to our scholarship program, please see our DONATE page. There is a place to let us know you need a scholarship and a place to add a donation on our registration page.
guidance for families taking workshops together
Parents and Children can take workshops together to have a positive shared experience or parents can join the workshop in order to assist a camper younger than the recommended age for the workshop.
If both parent and child will be "campers" —- making projects and wanting instructor attention—- then the parent should register as a camper and either pay the camp fee or request a scholarship and request a kit for themself and their child. If you will primarily be assisting your child, consider yourself a volunteer, and thank you! If you think you'll be somewhere in-between, please set your own camp fee and order kits as you feel is appropriate!
drawing for everyone workshop
Tuesdays, 1-3 p.m. January 12-March 16 (10 weeks). Ages 9 to Adult (younger campers can come on a case by case basis or with adult support). $200 plus $16.50 supply fee.
Emma Skurnick is one of our favorite teachers at Clapping Hands Farm! She has been teaching drawing and painting classes for over twenty years. She specializes in drawing plants and animals, and loves leading every student towards their own unique styles, goals, and definitions of success. Learn more about her work at EmmaSkurnick.com
Do you wish that you could draw realistically? Are you looking for a way to improve your art skills? Would you like to join a community of like-minded spirits – people who care about art, life, and creativity?
Join Emma for an ongoing exploration into the secrets and joys of drawing.
Each week, we will learn and practice a new drawing tool: How do I draw what I see? How can I create realistic shadows, perspective and foreshortening? How can I use art to tell stories and to bring something new into the world?
Each week, we will also have time for free-form sharing, questions, and exploration. Is there a drawing that just isn't working out? Let's problem solve! Have you always wanted to know how to achieve a specific effect or style? We can show you! Are you just stuck for an idea of what to do next? That is never a problem around here!
Come see what happens when you take time to explore the mindful magic of drawing.
The supply fee will include a pencil, eraser, sketchbook, charcoal, and a piece of plexiglass.
Register for Workshops
teen art hangout workshop
Tuesdays, 4-6 p.m. Ages 13-19. January 12-March 16 (10 weeks). $200 plus $6 supply fee.
This workshop provides a safe inspiring space for teens to gather for shared creativity, fun, and conversation. We have a line up of amazing guest artists who will come each week to share an art form and a project. Each artist will come for two weeks so we'll have a taste of 5 different creative inquiries. We chose our artists and projects to be appealing, inspiring and RELAXing! Once the project is introduced, our guest artist will be around to help out and ask questions, but we should have plenty of time to work on our individual projects and have random conversation. 
We know that many teens have tons of homework, too much pandemic isolation, and various levels of stress from big world events or small world stuff. We want our Teen Art Hangout to be a place to have some fun, get some human contact, and destress! We want the feel of this workshop to be both engaging and low key! 
NOTE: all activities are OPTIONAL, it's fine to show up if you aren't interested in or aren't in the mood for that week's project. Break out rooms are available if people just want to hang out. Or you are welcome to bring your own project to work on instead. 
Our workshop facilitators Mari Kearns and Z Walsh will be there every week to provide continuity and be hosts both to our campers and our guest artists.
GUEST ARTISTS include:
Jan Burger– co-director of Paper Hand Puppet intervention and cartoon school graduate and playful human will lead drawing games and cartooning.  
Jazz Gomez-Gadd– teen artist specializing in upcycled tie dyed, bleach dyed and painted garments will lead spatter painting and bleach dying. 
Lee Moavenzedeh– art, math and science enthusiast will share with us the art of zentangle doodling! View examples of zentagles.
Elle Moavenzadeh, Shemora Sheikh, and Surabhi Shah – artists will be sharing the art of henna– a body decoration tradition practiced for thousands of years in India, Africa and the Middle East.
Z Walsh– photographer and model working in NYC will be sharing insights and skills for photography. 
Clapping Hands Farm will provide henna cones, bleach pens, and 2 colors of acrylic paint. 
YOU provide: a camera or a phone for taking photos,  pens, pencils, markers, colored pencils, paper, bleach, buckets, washing machine, rubber bands (thick sturdy ones best), old clothing to decorate (100% cotton and thick material such as denim jeans or sweat shirts/pants are best for bleach dying.) and additional colors of acrylic paint if desired. 
Register for Workshops
advanced mbira workshop
A hybrid Zoom and in-person class.
Saturdays, 11:00 a.m. – 12:30 p.m. Ages 10 to adult (7-9 year olds welcome with a parent or adult helper). Dates and fees vary depending on option 1 or 2.
Teli Shabu is the instructor for this class. Teli is originally from Liberia and part of a family of performers and artists. Teli has been bringing his big heart and inventive mind to our Clapping Hands Farm community for a dozen summers; leading drumming, story theater, adinkra printing, telling stories, and building instruments.
This workshop is open to campers who have ALREADY taken "Mbira Build and Play" with Teli Shabu in 2020. In the Advanced Mbira Workshop Teli will take your mbira and your skills to the next level!  We will have fun learning more traditional songs, exploring chords, notation, and sharing our own musical creations.  
In the level 2 course, students will have the option of building a more advanced Mbira of 15 keys or expanding an Mbira they built in a previous class.
We will meet IN PERSON in weeks 5 and 6 for tuning and to introduce some music. Tuning has been the biggest challenge of our Zoom classes thus far and we are looking forward to trying a hybrid approach. We are hoping that during the 5th and 6th  classes we can get everyone tuned, and the second half of the workshop will be focused on SINGING AND PLAYING! 
Classes 9 and 10 will also meet IN PERSON, to bring it all together and play together in parts! 
The location of the in-person meetings is still TBD but will be outdoors (hoping for a shelter with a fireplace) and people will be asked to wear masks and observe social distancing. 
THIS WORKSHOP Has TWO entry points and two kit prices. 
OPTION ONE– Build a new Mbira
January 16- March 20, 2021 (10 weeks). $150 plus $38.40 supply fee.
The supply kit includes a wooden box, paint, metal keys and a tuner.
OPTION TWO– Modify your Mbira
February 6- March 20, 2021 (7 weeks), $105 plus supply fee.
The supply fee is $15.75 if for campers who took the Summer 2020 workshop and $12.50 for ca whompers took the Fall 2020 workshop.
NOTE: only the larger "adult sized" mbira can be modified to have the 15 keys. We recommend building or modifying the larger style mbira for this workshop. However, for smaller hands, we can add up to 10 keys to the child sized mbira, for this advanced class. 
Register for Workshops

quilting workshop
Saturdays,  1-3 p.m. (open studio hour from 3-4 p.m. )Ages 12 to adult (younger campers can come on a case by case basis or with adult support). Jan. 16-March 20 (10 weeks). $200
Clapping Hands Farm Quilting Continues! 
This winter, quilting continues with paper piecing to create a quilted wall hanging or other smaller piece. Paper piecing is a technique where you sew through paper to join pieces of fabric. When you're done, you tear away the paper. It is a technique to allow you to sew clear lines and angles easily. Here are a few examples from Cath at Wombat Quilts (Australia)
View more examples from Wombat Quilts (Australia).
YOU must provide your own fabric, thread, etc.
Register for Workshops
---