message from Louise (founder & director
Hope to see you at some of these fun events!
events upcoming!!
---
December 1, Saturday, 10-Noon, ZAWADI! Kwanzaa Gift Making Workshop! In Durham at Expotique:  319 W Main St, Durham, NC 27701. REGISTER HERE.  Clapping Hands, The Magic of African Rhythm, and other area artists will be helping to lead activities for people to make GIFTS that embody the spirit of Kwanzaa. See also the Zawadi workshop at Clapping Hands on December 8th!
---
DECEMBER 2, Sunday, 1-5 p.m.– gift making workshop for adults!
Cost sliding scale $25-$45 includes materials. Scholarships available.
Min. 5 Max 15 participants. Registration deadline of Nov. 24th
REGISTER - Dec. 2 GIFTS WORKSHOP
People have been begging us for "Camp for Adults" for decades. We are working up to it with these WORKSHOPS for adults!
Come join Mardi and Louise for an afternoon of  creating home-made gifts for people you love! In the great company of other people who love to make things! Here's what we have planned:
Mardi wants to make homemade Knitting Needles and Fizzy Bath Bombs! The knitting needles are simply a sharpened sanded dowel with a decorative ball of sculpy on the end. The Fizzy Bath Bombs are fragrant with essential oils, invigoratingly fizzy, and luxurient with coconut oil. You can add spices, herbs, salts to personalize your creations.
Louise wants to make decorated Journals  with collages on the covers. You can work with  painted paper, cut paper, or magazine pictures to create an image that reflects the passions and personality of the person you are gifting it to. Louise also will be decorating candles with colorful waxes that are shaped in your warm fingers and then pressed onto the candle. Beautiful! You can create in colorful wax an intention, a word, an image to invoke the blessings you want to bestow upon the person you are giving it to! Every time they light it those intentions will shine forth!
---
December 8, Saturday, 1-5  p.m. ZAWADI, Kwanzaa gift making at Clapping Hands Farm
REGISTER - Dec. 8, ZAWADI WORKSHOP
A family oriented gift making workshop for Kwanzaa gifts. Zawadi are gifts that are given at Kwanzaa. They are usually handmade, educational and/or inspirational, reflecting the spirit of Kwanzaa. At our Zawadi workshop we  will be dressing up clothes pin dolls with African fabrics, making Morabaraba board games, decorating Kwanzaa journals, printing with Adinkra Stamps on fabric or notecards. Space limited to 15 participants. Suggested Donation $10-$25/person,  no one turned away, scholarships available. Please Register by December 1. (see also the Zawadi workshop in Durham on Dec. 1)
---
Tuesday Art Camp for Homeschoolers 
Session 3 and 4 are open for registration now. Early Bird Discounts end December 1. Our first two sessions have run full, so encourage early sign up.
REGISTER - ART CAMP
This camp happens on Tuesday 9- 3:30.
SESSION THREE: January 8- February 26 with March 5 reserved as a weather make up day.
Eight Weeks. $450. ($425 if you sign up and pay by December 1; $400 if you sign up and pay for BOTH Spring sessions by December 1.)
FOCUS GROUP CHOICES:
OUTDOOR EXPLORERS
ART WITH LOUISE
SESSION FOUR: March 12- May 7, BUILDERS CAMP!
NO CLASS ON APRIL 16. Eight weeks of camp. Weather make up day reserved on May 14. $450. ($425 if you sign up and pay by December 1; $400 if you sign up and pay for BOTH Spring sessions by December 1.)
FOCUS GROUP CHOICES:
CARPENTRY and CONSTRUCTION
PATTERN MAKING and SEWING
TAKE APART and FIX IT
fundraising letter writing parties!
We will be scheduling FUNDRAISING LETTER WRITING PARTIES in all the towns and cities around here from mid November through mid-December. Our Fall Fundraising Letter raised $6000 for our scholarship program last year with about 25 people sending 170 letters. This year our goals is to involve 50 people from the camp community and send 300+ letters and hope to raise $10,000! All the money raised goes to our big beautiful scholarship program. We'll need LOTS of volunteers to make our goal!
We provide a beautiful letter, (thank you Christie Croft for writing our 2018-2019 fundraising letter!) You bring your address book, add a personal note to each letter and send them with love to your friends, family, co-workers and contacts! You can send letters from home (let us know how many you need and we'll get them to you.) But it is much more effective to come to one of our letter writing parties.  It really helps to have the time set aside that way; the letters have a way of actually getting out versus lying around until you guiltily recycle them. PLUS you get to do it with friends and we'll provide envelopes and stamps!
PLEASE LET US KNOW IF YOU CAN COME TO ONE OF THESE PARTIES! So we can plan the food!
Fundraising Letter Writing Sign Up
We hope to have 8 letter writing parties on the schedule. Here are the ones coming up in December:
December

6, Thursday, 6-8 p.m. at Aaron and Pam Fleischauer's home (Jack's parents) on the North side of Pittsboro.

December 9, Sunday, 1-4 p.m. at Jeanne Cosmey's house (Khallori and Daiyu's mom) on the Durham/Chapel Hill line (not far from Trader Joes). Potluck Snacks.

December 12, Wed, 5-8, AmyBeth Kessinger's home (Belinda and Linda Richmond's mom) in Saxapahaw.  Join us for some chili!  
Would you like to host a fundraising party?  It's fun and easy!  We hope to have three additional parties.  Good locations for these might be: North Chatham, Siler City, Silk Hope, or Durham.
ukulele band practice!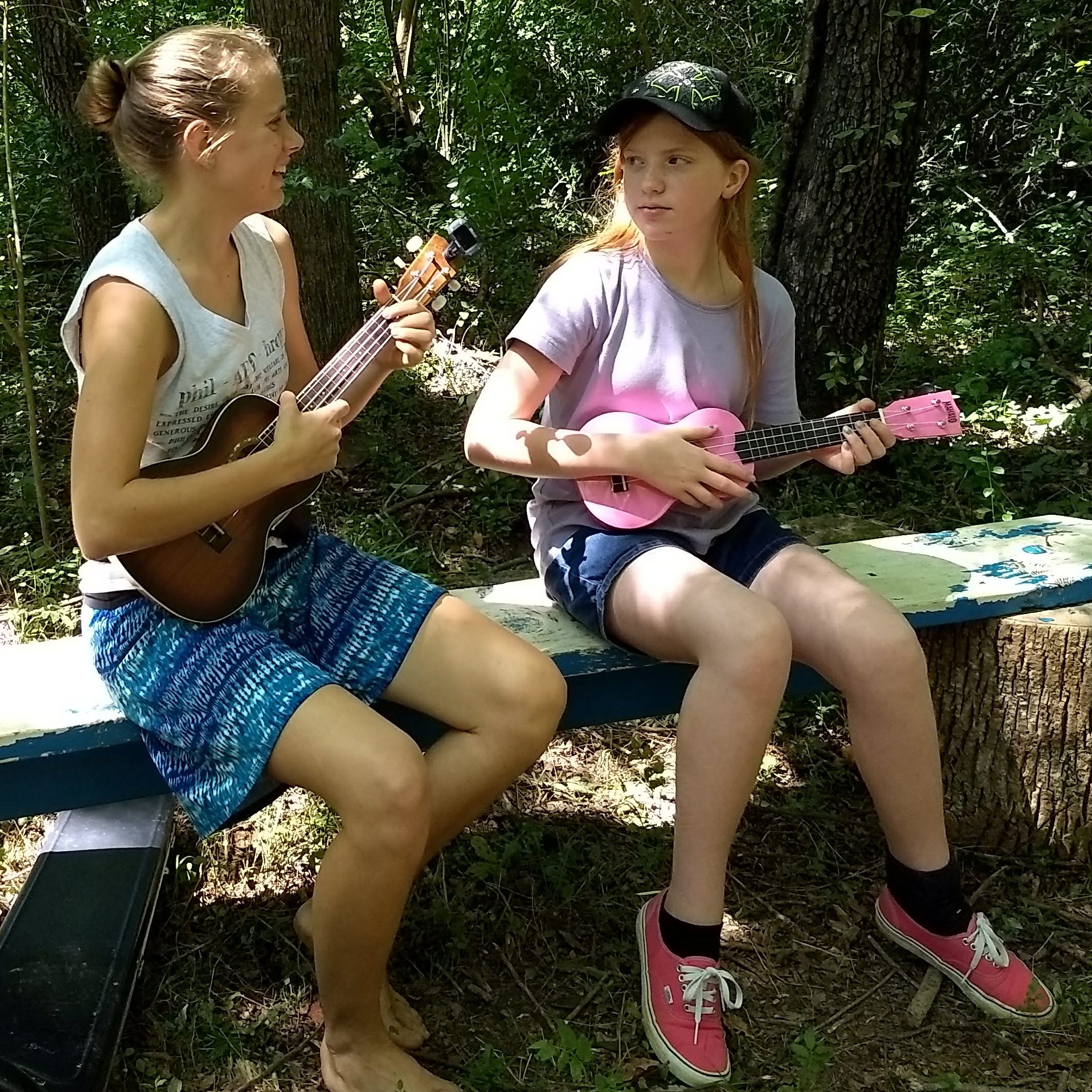 Ukulele Band Practice is for people who have learned to play ukulele at Clapping Hands and want to keep practicing and learning! The Ukulele Band represents Clapping Hands at community events and fundraising parties!
PITTSBORO UKULELE BAND PRACTICE:
Tuesdays at Clapping Hands Farm from 4:00- 5:30 p.m.
CHAPEL HILL/DURHAM UKULELE BAND PRACTICE:
Sunday December 9, 1-3 p.m
please let us know if you are planning to join any of these band practices: clappinghandsfarm@gmail.com
---
volunteer opportunities
washing things and returning them clean- simple things that need doing regularly or occasionally- for example, running lost and found through the washing machine and then taking the stuff to donate.

workdays- we need to gather more firewood for our winter workshops— have one planned in January

making stuff- we need to make art cards, Louise wants some help testing projects.

events-  we try and make a regular appearance at community events to let people know who we are and what we are doing! Volunteers are needed to run activities and talk with people.
fundraising- Host a fundraising party (an event where you invite people YOU know who you think might want to support clapping hands farm to your house, we provide information and entertainment, and collect donations.) Send fundraising letters (see above). Host a fundraising letter writing party in your house.
Tuesday Art Camp- we can use volunteers to lead projects, assist with projects and work with campers at our Tuesday Art Camp all year long.
Interested in VOLUNTEERING in any of these ways? Please fill out this simple form to get plugged in. VOLUNTEER FORM
Or contact Volunteer Coordinator Mardi Magoo at clappinghandsfarm@gmail.com
new website!
Our new website is LIVE!  www.ClappingHandsFarm.com
I really hope you love it!
---
spring break and summer camps!
Spring Break and Summer Camps are posted on our new website.
Early Bird Registration for Spring Break Camp is open, with an Early Bird Deadline of January 31.
REGISTER - SPRING BREAK CAMP
Look for Summer Camp Registration in January.—-
coming in 2019
Advanced Ukulele Workshop in early January weekend of January 12-13
Songwriting Workshops, hoping to have one or two this winter-spring. Kathleen Hannon, Shana Tucker, and Vessna Scheff are all interested in leading one! Working on landing dates and times!
Family Campfires! stay tuned for dates and times!
Storytelling Workshop with Louise- this performance oriented class for ADULTS will meet weekly for 8 weeks and culminate in a sharing of stories for friends and family. Time and Location TBA. Please register your INTEREST by emailing louiseomotokessel@gmail.com
thanks for a great 2018!