message from louise (founder and director)
Dear Clapping Hands Farm Camp Community!!
I started working on this newsletter at the beginning of March; now it's the end of March and our lives and plans have certainly changed in big big ways during these few weeks! We are in a whole new world with the Coronavirus and the social distancing in response to it. At the top of the list for things changing at Clapping Hands Farm—- we have cancelled all our programs through April which includes ukulele band practice, Anything Goes Spring Break Camp and our Tuesday Art Camp for homeschoolers. I can only remember cancelling a camp ONE time—- and that was a new program that only had 2 kids signed up. So, it definitely felt strange to be doing this.
We had gotten our Tuesday Art Camp session 4 off to such a wonderful start! Making OUTDOOR ART!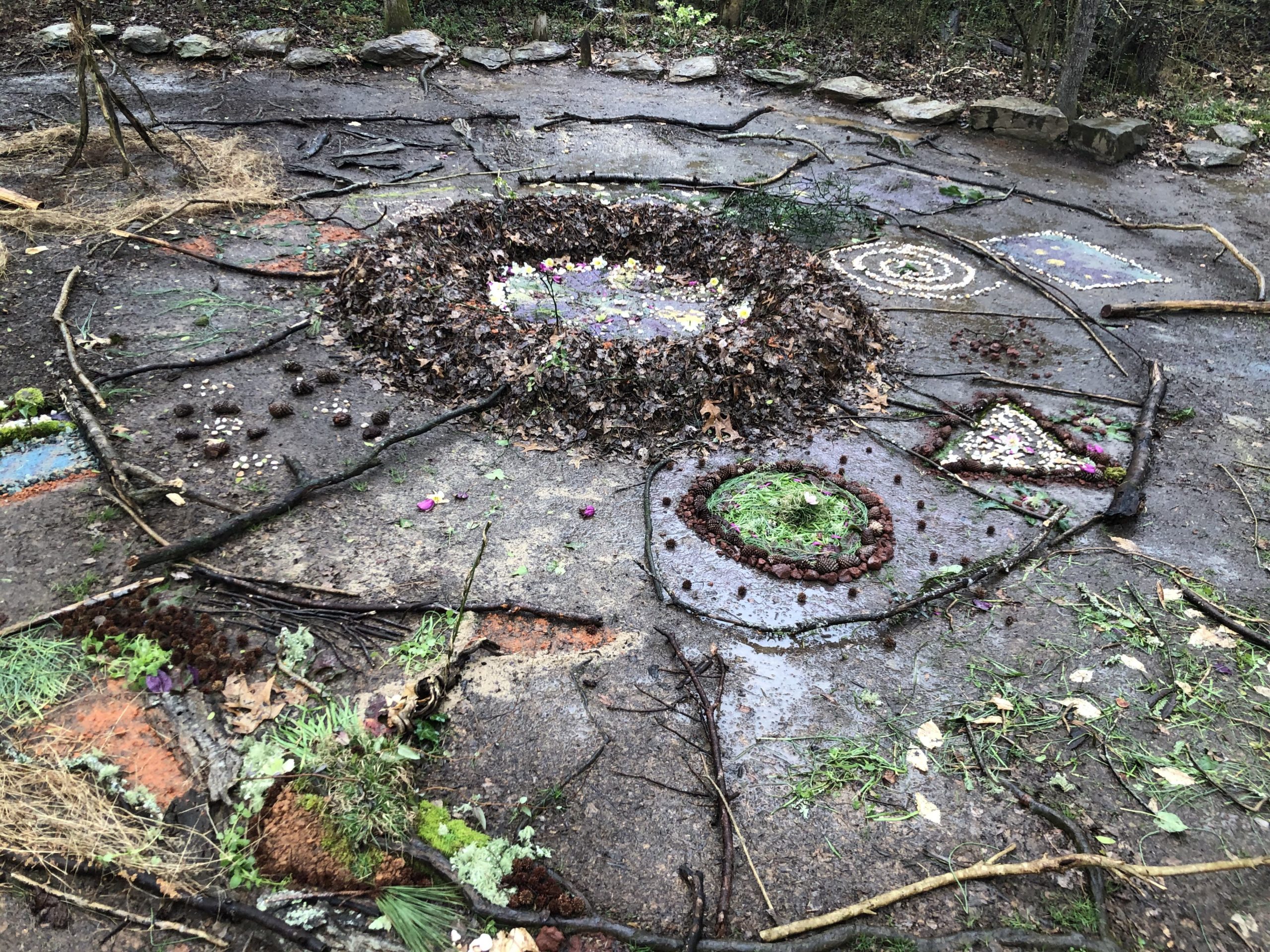 Making SONGS and MUSIC! and building MBIRAs (thumb pianos). Dang, it feels weird to be leaving songs half written and instruments half built! We have pledged to do our best to reconvene either in person or virtually to get some closure and complete our projects as soon as we can!
click here to see more PHOTOS OF Tuesday Art Camp's OUT DOOR ART group  IN ACTION
We understand that this pandemic MAY mess with our summer camp plans as well. But we are waiting until mid-April to make any decisions about summer camp. We'll definitely keep you updated all along the way. More about coronavirus and camp finances below.
I'm including updates about summer camp below, along with notes about how our process has changed in response to current events.
Meanwhile . . . my family is hunkered down comfortably and I'm feeling grateful for doing this lockdown in a place where we can take long walks and can be in full communion with Nature, even as we connect with our friends by Zoom and phone calls other not-in-person means! This is usually an intensely busy time of year for me and all these changes have put a pause on all of that. I'm getting enough sleep and we are making great dinners all together; there are definitely some gifts in all of this.
I am VERY interested in staying in touch with our camp community and would love to know how you and your family are doing. I would like to encourage our big creative camp family to post on our Facebook page and post any fun creative things that you are doing or instructions for arty things that folks can do at home. Some campers contacted me this morning wanting to remember how to do some string tricks they had learned at camp last summer and we had a Zoom lesson that actually worked! So, if you want to "get together" by Zoom I'm a beginner, but very willing to facilitate camp connections of various kinds! Please STAY IN TOUCH!
chatham line article about clapping hands!
Audrey Schwankl wrote a beautiful article about Clapping Hands for the Chatham County Line Newspaper!!!!! We appeared right on the FRONT PAGE of the March 2020 issue! And the article is continued on page 9! 
coronavirus and camp finances and fundraising
We are one of the small businesses that are directly affected by the shelter at home needs of this time. A number of generous families in our Tuesday Art Camp community were in the position to take NO REFUND when we had to cancel the remainder of Session 4. THANKS to them, I have been able to keep paying our staff thus far. . . . as most of our staff are also in the category of workers who don't get paid when they don't have "gigs", AND the majority of this kind of work is on pause for an indeterminate period of time.
We want to continue to support our staff through this the best we can. And we have expenses that are ongoing whether we run programs or not. We are educating ourselves about the new CARES bill to see if we might qualify for some assistance. But it is clear to me that FUNDRAISING will need to continue this year, whether we are able to run summer camp or not. It's more fun to raise money to support campers having amazing experiences! But, I think the goal of having Clapping Hands Farm HERE on the other side of this pandemic, is also something we can all get behind. More info on how to help in the VOLUNTEER section below.
volunteers! things we can do right now! volunteers with specific skills!
THINGS WE CAN DO RIGHT NOW even when we can't gather to work together:
I would love help making VIDEOS of  some of our favorite projects both for the purpose of training counselors and for posting on our facebook page in order to spread some fun and joy to our camp community (and beyond) even while we can't have camp.
NEEDED VOLUNTEERS WITH SPECIFIC SKILLS:
chainsaw operator- I have some trees that I would like cut up into stove lengths and some help moving them. I think I can work with ONE skilled volunteer to do this work, while respecting the 6 feet+ distances required by the coronavirus social distancing rules.
sewing machine repair person- camp owns several sewing machines. They could all use a little TLC a couple of them really need professional help to even run.
FUNDRAISING Volunteers needed!
Some of our camp expenses continue whether we have camp or not. So, our need for FUNDRAISING continues! We need:
People to send FUNDRAISING LETTERS to their personal contacts, friends and family. I am not sure if we will be ABLE to have fundraising parties anytime soon, so  I am doing a second round of fundraising LETTERS.
Sarah Perry and Khallori are working on a crowdfunding video to be launched in May or early June. We need People to RUN the crowdfunding campaign over the summer. We have a formula for doing this, but the hands on part would be best done by a volunteer since camp is running while this campaign is going and it's hard for staff to tend to this
Fundraising party hosts! It would be good to schedule 3 or 4 of them September- December of 2020. Would you consider hosting a fundraising party and inviting your friends and contacts to come celebrate and learn about Clapping Hands Farm?
Our volunteer workdays will crank up as soon as we can gather and work together again. AND there might be INTENSIVE volunteer needs as our ramp IN to the camp season might be SHORTER than usual due to the current stay at home order keeping us from doing that kind of work now. AT THAT TIME WE WILL NEED:
Adult Volunteers AT CAMP (this is the FUN PART y'all!)
People who love to clean and organize stuff for our "Beauty and Order" workdays
Workday volunteers for outdoor labor at the farm
Someone who would be the POINT PERSON for workday coordinating contacting other volunteers to get a turn out for each workday and event.
People to provide staff dinners for the Sunday Staff Meeting before each session of Tuesday Art Camp and before each camp.
People to help with admin stuff. In particular people to LEARN some of the tasks ANNA does so we can take over her tasks for a MONTH or TWO this May and June while she is out on Maternity leave!
and MORE!
The most helpful thing for us is if you are interested in volunteering, please FILL OUT THIS FORM:
VOLUNTEER FORM
camp registration 2020! enrollment notes!
Some of our camps are full or nearly full and some have plenty of room. You are encouraged to sign up for summer camp! Because of all the built in uncertainty about any plan-making at present—-I would hold off on sending in payments for now, but enrolling is still a great idea. In all the Coronavirus topsy-turvy, I'm guessing there is a higher likelihood of space opening up in our camps that are currently FULL. Getting on a waiting list is a good idea ANYHOW because we include people who were wait-listed this year in an early registration period next year. If a camp is full, signing up for that camp on our REGISTRATION FORM will get you on the waiting list.
2020 CAMP REGISTRATION
summer camp schedule 2020!! WITH FOCUS GROUP and LEAD TEACHER UPDATES!!!

And space available updates as well. 
There is MORE information about each camp and lots of pretty pictures from camps past on our website's 2020 CAMPS page
IMPORTANT NOTE: These dates were SIGNIFICANTLY REWORKED on 12/30/2019. If you looked at them or made any plans related to them BEFORE this date, please LOOK AGAIN.
2020 Camp Schedule! 
ANYTHING GOES SPRING BREAK CAMP- CANCELLED because of Coronavirus!
April 6-10, 2020. 9 am to 5 p.m. Ages 6-13. $250/week; $60/day.
MAY ART PARTY CAMP- space available!
May 25-29, 2020. 9 a.m. to 2 p.m. Ages 2-8.
Family Campers coming with a parent by the WEEK: $225 first child; $200 second child; $50 babies ages 0-2.
Family Campers coming with a parent by the DAY: $45 first child; $40 second child; $10 babies ages 0-2
Bridge Campers ages 5 and older coming without a parent: $250/week.
JUNE ART PARTY CAMP- FULL but getting on a waiting list is recommended. 
June 15-19, 2020. 9 am to 2 pm. Ages 2-8
Family Campers coming with a parent by the WEEK: $225 first child; $200 second child; $50 babies ages 0-2.
Bridge Campers ages 5 and older coming without a parent: $250/week.
TOYS & GAMES CAMP- FULL but getting on a waiting list is recommended
June 29- July 3, 9 am to 5 pm. Ages 7-13. $250
MUSIC & DANCE CAMP- space available!
July 13-17, 9 am to 5 pm. Ages 9-16. $300
FOCUS GROUPS:
Latin Dance with Andrea Lara
Hip Hop with Kenard Willams
Jazz Band+ is actually EXPANDING to include Jazz AND other musical possibilities. Sarah Perry and Teli Shabu will lead this group along with some talented Guest Artists.
ARTS FOCUS CAMP- space available!
July 27-31, 2020. 9 am to 5 pm. Ages 13-18. $300
FOCUS GROUP UPDATES:
BEAT BOXER Chris Celiz is coming to camp! Check him out!
Sarah Perry will be leading an INVENTING GAMES focus group!
FIBER ARTS will be offering FELTING with Louise, QUILTING with lots of exciting NEW projects and WEAVING with a lot of exciting NEW projects!
UKULELE CAMP- limited space available!
August 10-14, 2020. 9  am to 3 pm. Ages 10 to adult. $300 with a Ukulele; $250 if you bring $250 if you bring your own Ukulele.
TEACHER UPDATES:
Sarah Perry will lead our Brand New Beginners
Jimmy Magoo will lead our Advanced Beginnners
Vessna Scheff will lead a Song Writing and Performance group for Intermediate and Advanced players
and I am still confirming a teacher for Intermediate and Advanced players who want to focus on building skills and technique.
2020 CAMP REGISTRATION
REGISTER FOR CAMP! and SPREAD THE WORD!!
call for counselors! April 10 deadline for applications!
With a new summer camp season comes a need for MANY MANY wonderful camp counselors! We can use people as young as 10 as Junior Counselors at Art Party Camp! And we need people 19 and up to work as counselors at Arts Focus Camp. RETURNING COUNSELORS and NEW COUNSELORS all need to fill out our counselor application form to begin the process of being considered for counselor positions. We have EXTENDED the counselor application deadline to April 10 because our work has been interrupted by the Coronavirus response and we're a few weeks behind on everything.
We are particularly in need of EXPERIENCED OLDER COUNSELORS and YES my friends, you DO still need to fill out the application even if I know you and love you! (PLEASE please PLEASE)
Our summer camp season has the same uncertainty as everything else right now, but . . . we want to be READY to run camp if we are able to. So, please fill our a counselor application if you haven't already!
2021 COUNSELOR APPLICATION
training days and work days for counselors
New this year, and part of our wondrous push to build our VOLUNTEER PROGRAM, all counselors will be asked to attend ONE WORK DAY and one TRAINING DAY for each camp they are working. We started this for our ART PARTY counselors and I've been so pleased with the results I realized we should just build this into the plan. I really have enjoyed working with small groups way ahead of camp and to see the big difference it makes in getting everything organized. When ever it seem appropriate within the social distancing guidelines, I'm ready to get together with people to continue the process.
ALL TRAINING DAYS in APRIL are on PAUSE for now.
I will update EVERYONE who has filled out a COUNSELOR APPLICATION as training days and work days start up again.
spring events!
As far as I know ALL the spring events (Clyde Fest, Shakori . . . ) are now cancelled or on hold.
round up at chatham marketplace!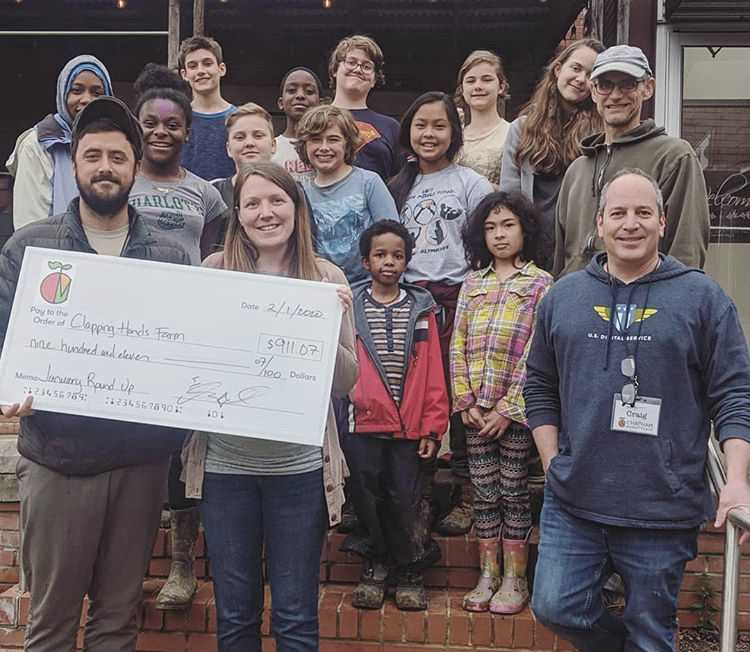 Clapping Hands Farm was the recipient for the Chatham Marketplace ROUND UP program in JANUARY!!!!   We  received a check for $911.07, and the manager has told us it's one of the bigger ones they've given lately! Thank you for ROUNDING UP when you shopped there! And thank you to Chatham Marketplace for thinking up ways to support organizations in our community. This photo shows Chatham Marketplace staff, our "detail wizard" Anna Marie Wright (holding the check) and a nice crowd of campers and parents from our Tuesday Art Camp for Homeschoolers!
community!
Edith McCaskill, singer, homeschool mom, teaching artist and volunteer for camp along with her siblings are hosting a GoFundMe to raise $ for funeral expenses for their mom who died a couple of weeks ago.
Jesenia Schwankl's  brother, 4-year-old Alex,  has some serious medical issues going on and there is a GoFundMe to raise $ for medical expenses for him and to help his family.
please let us know if you need assistance during this Corona thing!
Send your NEWS for the next newsletter! Concerts, Events, awards, sickness, help needed, your personal business classifieds. . . . we'd like to support, celebrate and connect people here!