covid careful outdoor camps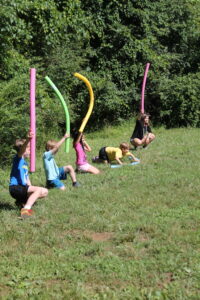 Our in-person programs this Fall will follow our well established Covid Careful Camp guidelines that we used successfully in the spring and summer.  Please read our COVID response page for all the details!
HEADS UP:
Enroll Early.

Our COVID-careful camps our limited in size and many of our camps FILL early.

Selected Campers.

Although early registration is very likely to secure a spot in your camp of choice, we will not be running on a strictly "first come first serve" basis. This is to ensure we have a good spread of ages, plus racial and gender balance each week.  We also want to include as many campers as possible in our 2021 season, so we may prioritize getting a camper enrolled for a first camp over a different camper coming to three camps.
If a camp is FULL it is still a good idea to register, this gets you on our mailing list for early registration in the future, and also on a waiting list for that camp.
The first few people on each waiting list will be invited to a "standby" status, we will ask if you are free to come if a space is available, and if yes, we will collect camp forms from you and offer you a spot if one comes open. We have found that there are more last minute cancelations this year than in the past.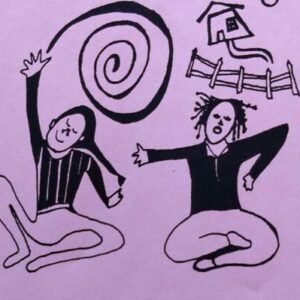 In Person: We Are All Storytellers. Ages 18+ (teens considered on a case-by-case basis).
Dates: September 18-November 13, 2021 (8 weeks + 1 weather day)
Meeting Time: Saturdays, 1:00-4:00 pm
Camp Fee: $300
In this performance oriented storytelling workshop for adults, we will explore the Art of Storytelling. Louise believes We Are All Storytellers and this workshop is intended to be an empowering deep dive into the craft! Louise offers structured exercises each week — we will deepen your connection with the characters, places, and events in your story; we will  look at ways to bring audience participation into  your performances; we will practice word painting and ways to tell the story with our bodies, voices, gestures and faces.
Participants will select a story they love—- folk tales, personal stories, family stories, stories related to your own faith or cultural heritage, stories that teach or send a message, literary stories, original stories—-are all fair game! Then we'll work together to help you build a relationship with your story,  learn the story by heart and bring it to life in performance. The workshop will conclude with a recital for friends and family.
Register for Fall Workshops
---
In Person: Teen Art Hangout. Ages 13-18.
Dates: September 19-December 12, 2021 (12 weeks + 1 weather day)
Meeting Time: Sundays, 1:00-4:00 pm*
Camp Fee: $300
A fun, laid back workshop with our fabulous Clapping Hands Farm staff — Louise Omoto Kessel, Khallori Cosmey, Alex Nelson and Zella Magoo will be sharing leadership for this camp. We are planning for a big assortment of art projects from the whacky to the sublime, a few amazing guest artists, AND (most importantly) a great community of creative teens. We choose our Teen Art Hangout artists and projects to be inspiring, appealing and RELAXing!  As COVID continues, we want our Teen Art Hangout to be a place for people to destress and a healthy antidote for pandemic isolation.
We plan to meet IN PERSON every week—- but, In the event that we are not able to meet in-person (because of COVID or weather) on a particular week— we will shift to zoom. We would like all our Teen Art Hangout campers to commit to zoom camp in the event we must switch.
*Priority will be given to returning campers. We understand that weeks generate more scheduling conflicts than weekdays, but are looking for a group of people who will commit to the entire 12 week run. We also appreciate advance notice if you must miss a Sunday. We will invite people on the waiting list or standby list to join us on a space available basis.
Register for Fall Workshops
---
In Person: Teen Creative Writing and Reading Circle. Ages 13-18.
Dates: September 23-December 9, 2021 (10 weeks + 1 weather day).
Meeting Time: Thursdays, 12:30-2:30 pm (Creative Writing) & 3:00-4:00 (Reading Circle).*
Camp Fee: $200 (Creative Writing). $100 (Reading Circle). $275 (Both).
Lead by Joelle Brummit-Yale, a creative teacher and homeschool mom who is passionate about stories both written and read! Joelle plans a fun engaging exploration of the writer's craft with specific inquiries into poetry and personal narrative this Fall. There will be time and support for campers to write on topics and projects of their choice. She also plans to help people build a writer's practice and skills including free writing and peer conferencing. Campers will get the most out of this workshop if they commit to writing during the week.
Our Reading Circle group will build a community of support for reading and/or listening and then explore all the thoughts, questions and ideas that books can present and inspire. Joelle and the group will choose great books to read together and  talk about. All the books will be available in paperback and as an audio book. There will be a schedule of chapters to discuss each week and campers will enjoy the group most if they are caught up with the reading and listening.
You can sign up for Creative Writing or Reading Circle BUT, we would love it if people signed up for BOTH Creative Writing and the Reading Circle as there is plenty of interplay between writing and reading great writing!
*An optional Nonowrimo/Writers Goal Setting Support Group led by camp staff will be offered for writers who have personal goals for their writing from 12-12:30.
Register for Fall Workshops
---
Online: The Yes-ing Bowl; A Creativity Community for Adults.
Dates: September 19-December 12, 2021 (13 weeks)
Meeting Time: Sundays, 7:00-9:00 pm
Camp Fee: $240
Sarah Perry and Aya Shabu are thrilled to offer this online workshop for adults who want to say YES to their own creativity and to making a creative community.
This is a studio time to work on any art form you are drawn to. We are excited to expand the definition of art together and to wholeheartedly welcome your genuine self. No project is too small, too ambitious, or too unusual. Dance, move, knit, write, interact, build a computer, make music, draw, doodle, sculpt, carve, paint, tend your garden! The options are endless! Together, we are prioritizing the intentional time, playfulness, and focus that our art forms deserve. Thanks to our expert zoom tech assistant, Mari Kearns, we will have the flexibility to tune into the needs of the group and make breakout rooms so you'll have atmospheres and focus groups to choose from. Rooms can be made for an interest or topic and also to create separate spaces for folks who want to be more conversational and interactive and those who want comfortable quiet or music in the background. We care about your process and what supports it.
Each week, every person will have the opportunity to talk about their creative life and listen during check in. We value having space for each voice to be heard. There will also be a time devoted to sharing little inspirations. This encourages us to look for and stay open to stories, quotes, artwork, and experiences both beautiful and challenging that nourish our own creativity and might be just what someone else is meant to hear or see. At the end of the evening, we'll have a time to appreciate anything or anyone in the group if you're drawn to! Sarah and Aya will bring their art, awareness, flow, honesty, caring and support, and deep capacity for honoring each person while making community. Together we will build an open-minded group where each of us can feel safe to dive deep into our creative space to listen, share, make, make mistakes, inspire, and be inspired through our connection.
Register for Fall Workshops
---