Outdoor Camp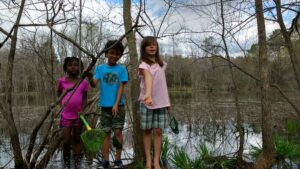 We are EXCITED to be planning ON THE GROUND at Clapping Hands Farm for In Person Camps in 2021! We are thinking through every aspect of every day to make a thoughtful, covid careful, inspired, FUN! camp environment! And we can not wait to see our CAMPERS!
We have information on our website that we continue to update about our Covid careful camp plans including what if there is a stay at home order during a camp week. Check it out if you want more details.
HEADS UP:
Enroll Early.

Our COVID-careful camps will be MUCH smaller than camps in the past!

Selected Campers.

Although early registration is very likely to secure a spot in your camp of choice, we will not be running on a strictly "first come first serve" basis. This is to ensure we have a good spread of ages, plus racial and gender balance each week.  We also want to include as many campers as possible in our 2021 season, so we may prioritize getting a camper enrolled for a first camp over a different camper coming to three camps.
Camp Fees & Registration
Spring Break Camp is $275/week per camper. There is always scholarship assistance at Clapping Hands Farm. Please do not let $ be an obstacle. Our camp policy is No One Turned Away.
If you would like to contribute to our scholarship program, please see our donate page. There is a place to let us know you need a scholarship and a place to add a donation on our registration page.
To register for spring break camp, please fill out a registration form for each camper attending.
Earth Romp Camp. April 5-9, 2021. 9 a.m. to 5 p.m. Ages 7-10.
This Spring Break, Jan and Louise are offering a joyous EARTH ROMP for ages 7-10. Our mornings will be a grand mixture of:
Wild Art.

Giant earth mosaics made of sticks and leaves and other things we collect, fairy houses, basket making, anything made from things in nature!

Earth Skills.

Firemaking, fort building, shelter making

Nature Exploration.

Hikes, letter boxing, nature journaling, pond excursions, visits to Harlan's creek, canoeing

Running Around.

Big games, frisbee golf, badminton, etc.
Our afternoons will include all of the above plus some random additional stuff Louise and Jan can pull out of their hats like. . . drawing games, storytelling, comix, flip books, art, and who knows what else!
Jan Burger, one of the co-directors of PaperHand Puppet Intervention was the very first artist to do camp at Clapping Hands Farm, the very first year of camp in 2000. Jan and Louise did "Puppet Camp" and many of those campers are STILL involved in the camp community or stay in touch! Jan has also partnered with Louise to do Toys and Games camp, our longest running camp of all. This year there were too many things about Toys and Games camp that seemed COVID tricky, so we are going to stir in some additional elements but still intend to have a very playful week!
In the event we are NOT able to hold camp in person, we are prepared to have camp on Zoom. In this case, Jan, Louise and the rest of the staff will magically switch from EARTH ROMP to  ZOOM ROMP. We will PIVOT to things that will work WELL on Zoom. So we won't be bringing all the SAME activities to Zoom Camp, but we will bring our BEST selves and everything we know —- which collectively is really A TON OF really fun stuff! As an example, probably no firemaking, but maybe stop action movies! We will be able to do more Earth Romp activities via ZOOM if we can do it as a PARENT CHILD camp; and our younger campers will have the best experience on ZOOM ROMP with some adult support regardless of the activities.
Zoom Camp is elective and you can indicate your desire to participate on our registration form.
Learn more about Spring Break Camp Plan B
Register for Spring Break Camp