"The days are filled with music, art, nature, and play. The kids are encouraged to be problem-solvers, leaders, artists, and forces of compassion."
— Emma Skurnick, parent and teaching artist
---
Our 2019 Camp Season was FANTASTIC! Thank you to all our STAFF, CAMPERS, FAMILIES, and SUPPORTERS! 
I'm in the process of posting albums for each 2019 camp on FACEBOOK  and our performances on our YOUTUBE channel. 
Go take a look to get a feel for what we do! 
WE HAVE DATES for our 2020 camp season (see below.) MORE DETAILS and REGISTRATION should be up by January 1, 2020. 
Our 2020 camp schedule includes our FIRST EVER week long camp for GROWN UPS! On the theme of ART, SPIRIT and ACTIVISM! 
ANYTHING GOES SPRING BREAK CAMP-
April 6-10, 2020 for ages 7-14, 9 am – 5 pm, $250 or $60/day
This is Spring Break for Chapel Hill-Carrboro, Chatham County Schools, Lee County Schools, and Emerson Waldorf School 
Unfortunately, the rest of the Spring Breaks, including for some schools we LOVE working with (Willow Oak, Empowered Minds Academy, Hawbridge, Durham County Schools) are spread out on different weeks and we didn't think we'd have enough campers from just ONE school. 🙁
Anything Goes Camp is a generous helping of All Things Fun at Clapping Hands Farm! Come join us for the week, or a day, or anything in between!
FREEDOM TO CHOOSE is the signature feature of this camp. Campers choose what they want to do from a menu of offerings for each morning and afternoon! Activities are a delicious array of art projects, nature explorations, engineering challenges, games, performing arts, and any number of creative silly or serious experiences (see more detailed list of possibilities below)! Staff create the offerings for each morning, and the afternoon is compiled 100% from campers requests – "anything goes!"
Spring Break Camp is a great introduction to camp at Clapping Hands Farm and gives a sampler of many of the activities that get explored in a deeper way during our week-long summer camps:
Outdoor skills and adventures: fire-making, hiking, canoeing, exploring, fort-building, nature journals, letter-boxing, map and compass work…
Building, engineering, and toymaking: carpentry, engineering challenges, take-apart-and-fix-it workshops, hydraulic robots, air-powered rockets…
Art projects of so many kinds: painting, drawing, collage, printmaking, felting, fiber arts, glue gun fun…
Music: ukulele classes, singing, drumming…
Creative writing, theater games, storytelling…
Games: big all-camp running games, capture the flag, rainbow tag, six feathers, sock wars…
Random crazy wonderful fun: shaving cream experiences, cloud-watching, tree-climbing …
---
ART, SPIRIT and ACTIVISM! May 11-15, 2020. 
A camp for adults and older teens
Stay tuned! We're still dreaming this one up, but are VERY excited about it! 
---
ART PARTY CAMP-
TWO WEEKS: May 25-29, 2020 and June 8-12, 2020 for ages 2-8, 9 am – 2 pm, Family campers: $225 first child, $175 each additional child. Bridge Campers $250. By-the-day: $45 first child, $35 each additional child
"Art Party Camp is thrilling.  It is a smorgasbord of messy art projects and drumming workshops and mud. You might find stilt walkers or tap dancers or reflexology. But it is the focus on each child that is magical: every toddler gets a junior counselor as their 'one-on-one' partner. Each young counselor brings remarkable warmth and attention. You have to see it to believe it."
— Laurie Kennington, parent, former counselor starting in 2000
Art Party is a family camp for parents and young children to enjoy together. Each day the Clapping Hands team sets out a spectacular array of visual art explorations, and each day a different Guest Artist shares music and dance experiences for all-around fun time. At our ART PARTY, come ready to: finger paint; make colorful slime; play in shaving cream; draw with pastels, colored chalk, and other mediums; learn to embroider on burlap or sew your own stuffed animal; make your own toys; and so much more! Much of the day will be for adults and children to enjoy together. Each afternoon we offer a workshop with our guest artists specifically for the creative exploration and rejuvenation of PARENTS while other artists and camp counselors work with the CHILDREN. Singing games provide a lively morning circle and our day ends with a closing circle and a story told by Louise.
We invite children ages 5-8 to come with their parents OR to come on their own, as "bridge campers." With its shorter camp day and lots of counselor attention, Art Party can "bridge" these young campers to being ready for our full day "big kid" camps. All the Art Party activities are the razzle dazzle of this joyful week, while a small group of "buddies" and a special counselor provide a nurturing center. The Bridge Camp option is available for the full week only. Children 4 and under must come with a parent or another special adult in their life, and many parents of the 5 and up crowd WANT to keep coming and do!
"We have never found another activity that achieves the balance of structure and freedom that Art Party has—there is a predictable and coherent schedule for each day with the freedom for kids and parents to choose what they want to do all along the way. As a parent with a kid who thrives on predictable schedules but doesn't want to be told what to do, Art Party became the gold standard.

As a mama, Art Party is where I get to rest and feed my heart and soul with the things I can't get anywhere else. At Art Party—with Louise, Mardi, the Clapping Hands Farm team—parents have permission to be present with their children and also take a breather. If I say that I want to be interrupted in workshop if my kiddo is missing me, I know I can trust that someone will come get me if I am needed. My kids know this too and it gives them the space to need me less…because I am right there. But compared to the fabulousness of camp, I am so boring I am rarely needed. Art Party fills a special niche for parents with young children in this way—I don't know of any other program like it where parents can rest and relax and still be present for little ones in a supported and well supervised environment. It really is summer camp for the whole family."
— Sandi Osterkatz, parent
---
TOYS AND GAMES CAMP- June 22-26, 2020 for ages 7-13, 9 am – 5 pm, $250
A joyous week of pure playful fun! A week of romping and running and creative cooperative games, along with some traditional favorites (yes! Capture the Flag!). Jan Burger, the king of play, joins us to lead games; Louise Omoto Kessel will lead the Toy Making workshop. This year's featured projects have not yet been selected but previous years have included everything from traditional folk toys to hydraulic robots! Your children will spend the week entertaining themselves and one another using simple materials and raw imagination! Old fashioned toys and handmade games—cats cradle, dominoes, hop scotch variations from around the world… In the afternoon during Anything Goes, some of our favorite toy making projects will return: parachutes, stomp rockets, hula hoops, homemade board games, nine-men's-morris are all on the list of possibilities. For those that require MORE running around, there will be plenty of running game options in the afternoon as well! This is a great "entry level" camp for younger campers and new campers.
---
July 6-10, 2020, 9 a.m. to 5 p.m.  TOPIC TO BE ANNOUNCED either:
MUSIC & DANCE CAMP  for ages 9-16, $300
or STORY THEATER CAMP for ages  7-13 $250 
The following description is from the 2019 Music and Dance Camp—- check back for updates for our 2020 program! 
If you love to move, drum, play, jam, boogie down; if you love to create and collaborate with others; if you love all kinds of music or you've always wanted to be part of a band (even if you've never played an instrument); if you can't stop moving when there is music on, or you have always wanted to learn to dance—THIS CAMP IS FOR YOU!
Our mornings will be spent diving into a MUSIC or DANCE focus group of your choice. The rock star staff for this camp welcomes campers with no previous music or dance experience AND is completely prepared to inspire and challenge campers with significant music and dance passion and experience. Each focus group will perform in an informal sharing for families and friends at the end of the week.
2019 Music and Dance Focus Groups!
JAZZ with Al Strong and friends!
Al Strong is a jazz trumpet player, one of the founders of the Art of Cool Jazz Festival and on the faculty of the Jazz program at NC Central University. This is Al's third summer at Clapping Hands Farm; he is a master at bringing experience and brand new musicians together into a working ensemble in one week of summer camp! See a sample from our work last year HERE!
---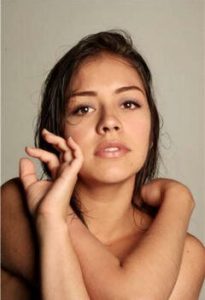 LATIN DANCE with Andrea Lara!
Originally from Colombia, Andrea was born in a family of artists. Her mother, a folklore dancer and her father a songwriter and musician, influenced on her the love for music and dancing. At a very early age Andrea was dedicated to learn different Latin American folk dances at school of arts where she attended in Bogotá. She joined a Latin American folk Dance company where she participated in different performances like Tango, Flamenco, Mexican Jarabe Tapatio and other folk dances for seven years. Andrea came to the U.S five years ago and has been teaching at Walltown Children's Theater in Durham. Come enjoy the sounds and rhythms that will transport you to the roots of Latin America! Want to hear the sounds you will be dancing to? Thornato – Gaita Gaita, San Lazaro, Vivir Mi Vida.
---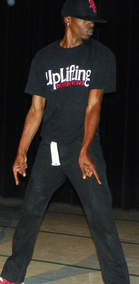 HIP HOP with Dominique Garrett!
Dominique was born and raised in Durham and as a child, dance was the last thing on his mind. In 6th grade he attended Kestrel Heights School where he and his classmates were introduced to performing arts at Walltown Children's Theater. Dominique instantly fell in love with dance. Dominique trained in ballet, modern, and jazz and was a member of Triangle Youth Ballet. He slowly lost interest in the technical side of dance and began perfecting his hip-hop dance style.He teaches at 9th street dance and at Walltown in Durham. Dominique's style of dance is influenced by Michael Jackson with a little bit of funk and a whole lot of swag.
---
Afternoon choice classes during the part of the day we call Anything Goes will offer further exploration in the realm of Rhythm, Music & Movement as well as a merry mix of all things Clapping Hands (games, hikes, archery, canoeing, art projects, delicious reading, juggling, circus arts, brain teasers, fire-making…who knows? Anything Goes!)
---
ARTS FOCUS CAMP- July 20-24, 2020 for ages 13-18, 9 am – 5 pm, $300
The heart of Arts Focus Camp is simply that it is a camp for TEENS. If you are a camper ages 13-18 who wants to be part of a joyful, creative, diverse, fun, outdoor camp community—we hope you will consider joining us! This is an opportunity to work closely with a working artist in their chosen discipline. YOU choose an ARTIST-LED FOCUS GROUP that you want to spend two hours creating with each morning. We provide an array of focus group choices aimed to engage a wide range of interests and learning styles. Visual Arts, Literary Arts, Music, and Movement are usually in the mix.
---
2019 Focus Groups! CHECK BACK FOR our 2020 FOCUS GROUPS!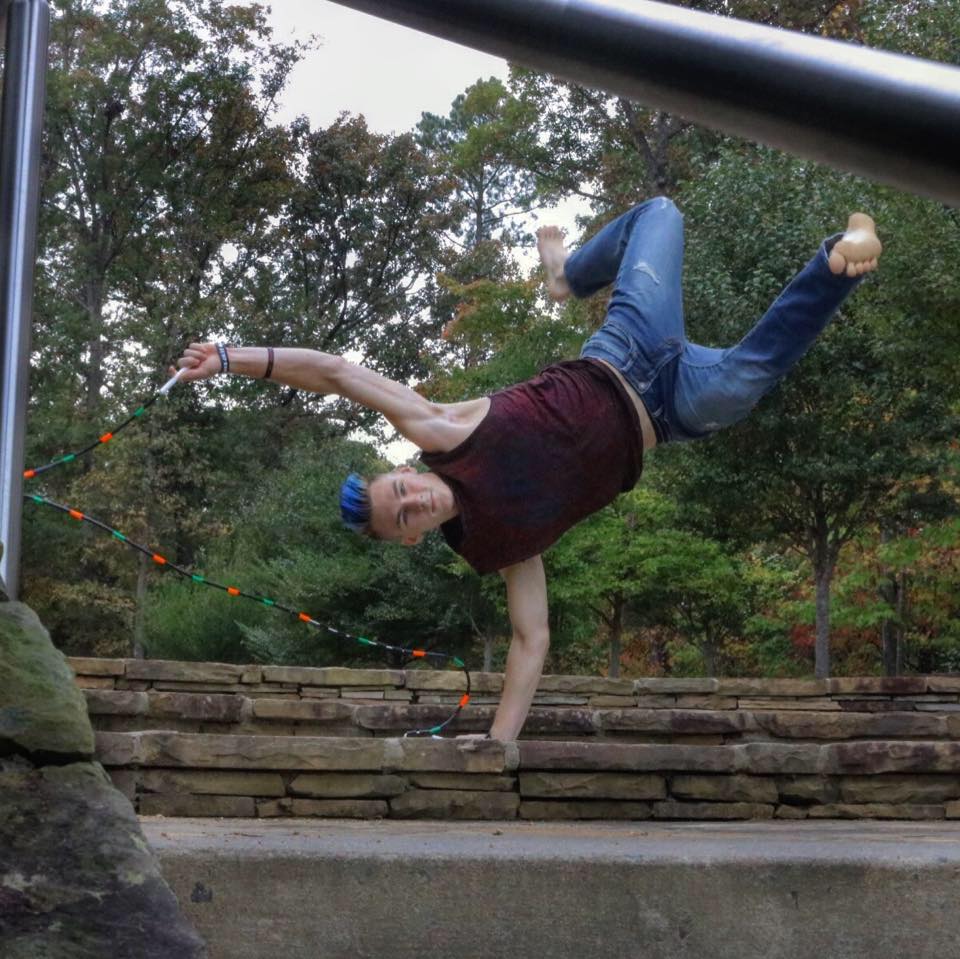 JUMP ROPE TRICKS & CIRCUS ARTS: NEW! Zak Tomlinson will lead this group teaching jump rope tricks and stick spinning. Zak, a life long homeschooler from Pittsboro who used to come to camp a long time ago, competes and performs internationally with his jump rope! See a little sample here! (click on that link, it's amazing!!) Joining Zak with be camp staff and Guest Artists teaching Juggling, Hooping, and other fun skills.
---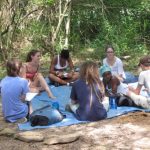 LITERARY ARTS: NEW! Creative Writing with a concentration on PERFORMANCE POETRY! Sara Graybeal  will lead this group. Sara was an original camper at Clapping Hands our first summer in 2000! She is currently in the MFA writing program at UNC-Greensboro, co-founded a performance poetry group in Philly called The Poeticians, and is a favorite teacher here. Note: you can sign up for this group if you want to WRITE even if you aren't interested in performance poetry.
---
MUSIC: Teli Shabu will lead this group focused on the MUSIC of AFRICA. West African drumming, Mbira (thumb piano) and SONG will all be a part of this exploration. Teli Shabu is originally from Liberia and part of a family of performers and artists. Teli has been bringing his big heart and inventive mind to our Clapping Hands Farm community for a dozen summers; leading drumming, story theater, adinkra printing, telling stories, and building instruments.
---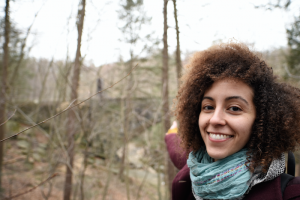 FINE ARTS: WATERCOLOR with Vessna Scheff. Vessna is an artist based in Philadelphia, PA. Through her art, she reclaims who she is, what she has to say and how she wants to say it. Art has always been her space of freedom. In this workshop, we will learn alternative ways to create the art we love through making our own environmentally friendly art supplies! Each participant will learn to make their own pigments using found materials and recipes for mixing and preserving our handmade paints. With our freshly made materials, we'll develop a collection of work that is biodegradable and compostable, creating art that is relevant to the moment but also folds back into the earth, making room for and nurturing our future. 
---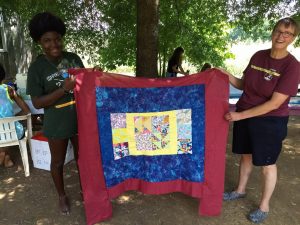 FIBER ARTS: QUILTING with Kate Hibbard, WEAVING with Melissa Ruof, and crochet, knitting, and sock toys with camp staff. Kate Hibbard used to be Louise's neighbor when they both lived in Bynum. Now she lives on Prudence Island in RI with three dogs (Mozey, Sadie and Darcy) and three cats (BigBob, Bert and Ernie.) About her QUILTING workshop: Explore colors and shapes through quilting! We spend some time working with squares and triangles to create all kinds of blocks and patterns. And, we'll cut them up and rearrange them to make new shapes and blocks. Then, you'll decide what you want to make, design your blocks, and make your fabric selections. Maybe you'll make a potholder, a snack mat, a wall hanging, pillow cases, or a lap quilt. You decide!
---
STEPPING STONES CAMP- August 3-7, 2020, for ages 5-10,  9 am – 3 pm, $250
This was a brand new camp in 2019 and we loved it! This camp is designed to give younger kids a stepping stone between Art Party Camp and our "big kid camps." We'll have gobs of counselor attention, amazing teaching artists, a shorter day, and huge assortment of awesome activities to choose from—art, games, nature, engineering, silly projects, creative challenges, music, dance, and more.
---
UKULELE CAMP- August 17-21, 2020 for ages 10-adult, 9 am – 3 pm, $300 includes a ukulele to take home, $250 if you already have a ukulele
Learn to play the Ukulele in a week! Yes, this is possible! Summer Camp Magic makes it so (or just do the math…it's the time equivalent of MONTHS of weekly music lessons!). Learning to play music with FRIENDS, it turns out, also enhances the process! This will be our fourth year of Ukulele Camp and we are now teaching on four levels from absolute beginner to advanced. No matter where you begin, you will be blown away by the progress you can make in a week. Every camper who doesn't already have a ukulele gets one to take home at the end of the week. Our Ukulele orchestra will give an informal "concert" for family and friends on Friday! Adults have enjoyed this camp week solo or with their children.