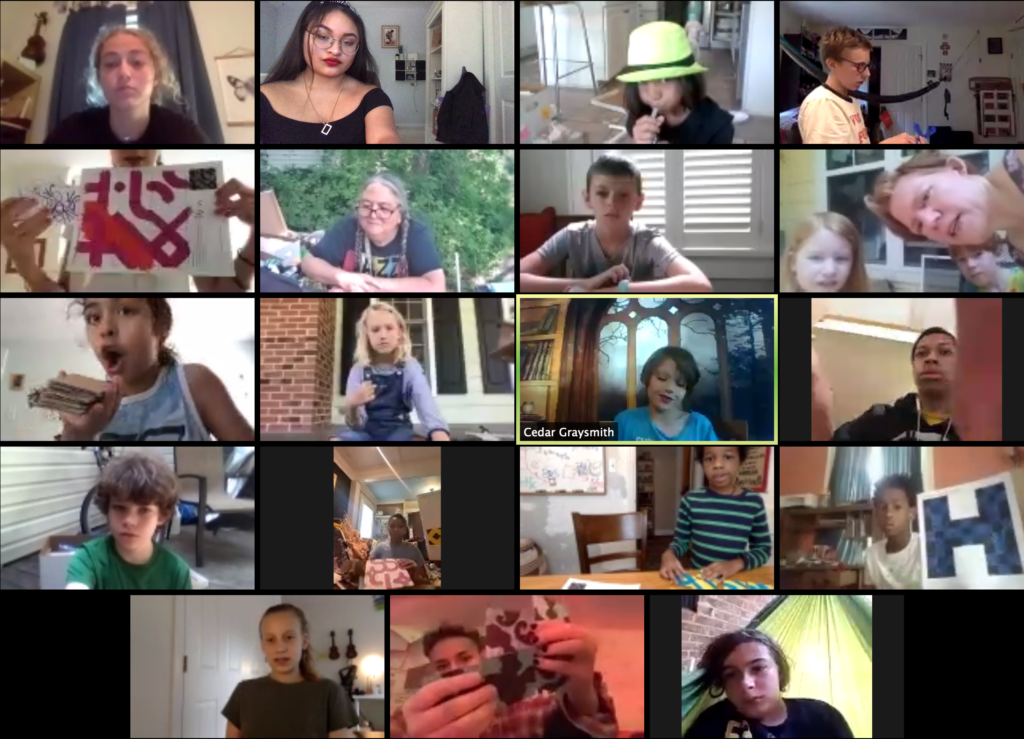 Clapping Hands Farm is pleased to offer an exciting array of connecting, engaging, interactive online workshops! Our goal in offering these workshops is NOT to keep people on screens! Quite the opposite! We aim to ignite some new skills, friendships, and passions that will have you and your family diving deep into creating and making. We want that "I can't stop Felting!" feeling, that quilting-before-breakfast feeling, that "I just created my own song on the Mbira!" feeling. Our goal is for the OFF SCREEN creating time that these workshops inspire to outweigh the Zoom time by a good measure.
For our Summer line-up we have selected workshops that we know work WELL online.
We bring our fun, respectful, welcoming camp culture with us on Zoom. Each workshop includes a check-in, where campers and staff share how they are feeling and what their week has been like, and appreciations for anyone or anything that's happened recently.
Fees and Registration
Fees vary for each workshop. There is always scholarship assistance at Clapping Hands Farm. Please do not let $ be an obstacle. Our camp policy is No One Turned Away.
If you would like to contribute to our scholarship program, please see our DONATE page. There is a place to let us know you need a scholarship and a place to add a donation on the registration form.
Chatham County Public Schools Summer Enrichment Program!
CHATHAM COUNTY PUBLIC SCHOOL STUDENTS are eligible for FREE CAMP this summer; the school system got a COVID relief grant for summer enrichment . If your camper is a Chatham Co Public School Student, there is a place on the form to let us know what school they attend and what county you live in. There is also a place on the form to ask for a scholarship; please just let us know in that space that you are participating in the CCS Summer Enrichment program. If you are ABLE to make a donation to our program since your camp fee will be covered, this is completely voluntary, but will help us maintain our "no one turned away" scholarship program for kids outside the CCS system and ease the much tighter "money math" resulting from running COVID Careful Camps with only 15 kids per camp this summer. Any help is deeply appreciated. If you want a tax deduction for your donation, please make your donation through our Fiscal Sponsor, Fractured Atlas.
---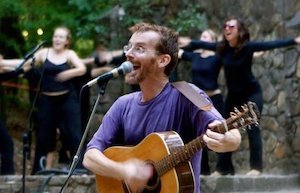 Silly Songs and Sing-Alongs Workshop (For young children and their families)
Saturdays, 9 a.m. June 19-August 7 (8 weeks). $80.
Come join the virtual circle of Jimmy Magoo's Silly Songs and Sing-alongs: a special musical offering for young campers and their parents!  We'll sing fun Magoo originals like "The Pickle Song" and "Gotta Get Up" alongside all the children's classics from "Old MacDonald" to "Wheels on the Bus." We'll also sing perennial favorites such as "Rattlin' Bog," "The Bathtub Song" and much, MUCH MORE!  This workshop is not just a great way to start your weekend. Many kids and families find themselves singing these songs all week long!
Special note to parents: YOUR participation is key here. These songs are always best sung with other people. Though Jimmy does a great job connecting through the screen, the real magic happens when folks share their musical vibrations with each other in real-time and space. In a perfect world, the whole family would join in and sing along. The more the merrier, in other words. This is true for every kind of performance, but particularly so for the happy, wholesome and heartwarming music of Jimmy Magoo.
Register for Workshops
---
Everything's a Puppet Workshop (Ages 7-12)
Saturdays, 10:30 a.m. to noon. June 19-August 7 (8 weeks). $120.
Everything's a puppet! Your hand is a puppet and so is your foot! Your finger is a puppet and so is your sock! A shovel, a spoon, a mitten, a box, a bag, a cereal box, a zucchini, or an eggplant can be a puppet! We'll make puppets all week!
We'll also make original shows with our puppets—adaptations of stories we know, improvised shows, or an original script! Come ready to entertain and be entertained!
Jimmy Magoo is a songwriter, theater artist, maker, games leader and homeschool dad! The Magoo family has been involved with Clapping Hands for at least 15 years! Jimmy is a favorite performer and teaching artist here!
Note to campers: People who are signed up for the Everything's a Puppet summer camp at Clapping Hands Farm should NOT sign up for the virtual workshop as well.
Register for Workshops
---
Teen Art Hangout Workshop (Ages 13-18)
Thursdays, 7-9 p.m. June 24-August 12 (8 weeks). $160 plus $20 for supplies.
Hosted by Z Walsh and Mari Kearns.
This is a fun, laid back workshop with a fabulous array of guest artists, a big assortment of wacky art projects AND a great community of creative teens. There will be lots of things to try and great people to hang with. We choose Teen Art Hangout artists and projects that are inspiring, appealing and relaxing!
Specific guest artists for the summer session are TBA. Please check back! Examples of things we've done in past sessions include: cartooning, drawing games, zentangles, upcycling clothing, photography, and henna.
Note: all activities are OPTIONAL. It's fine to not show up if you aren't interested in or aren't in the mood for that week's project. Break-out rooms are available if people just want to hang out or you are welcome to bring your own project to work on instead.
Register for Workshops