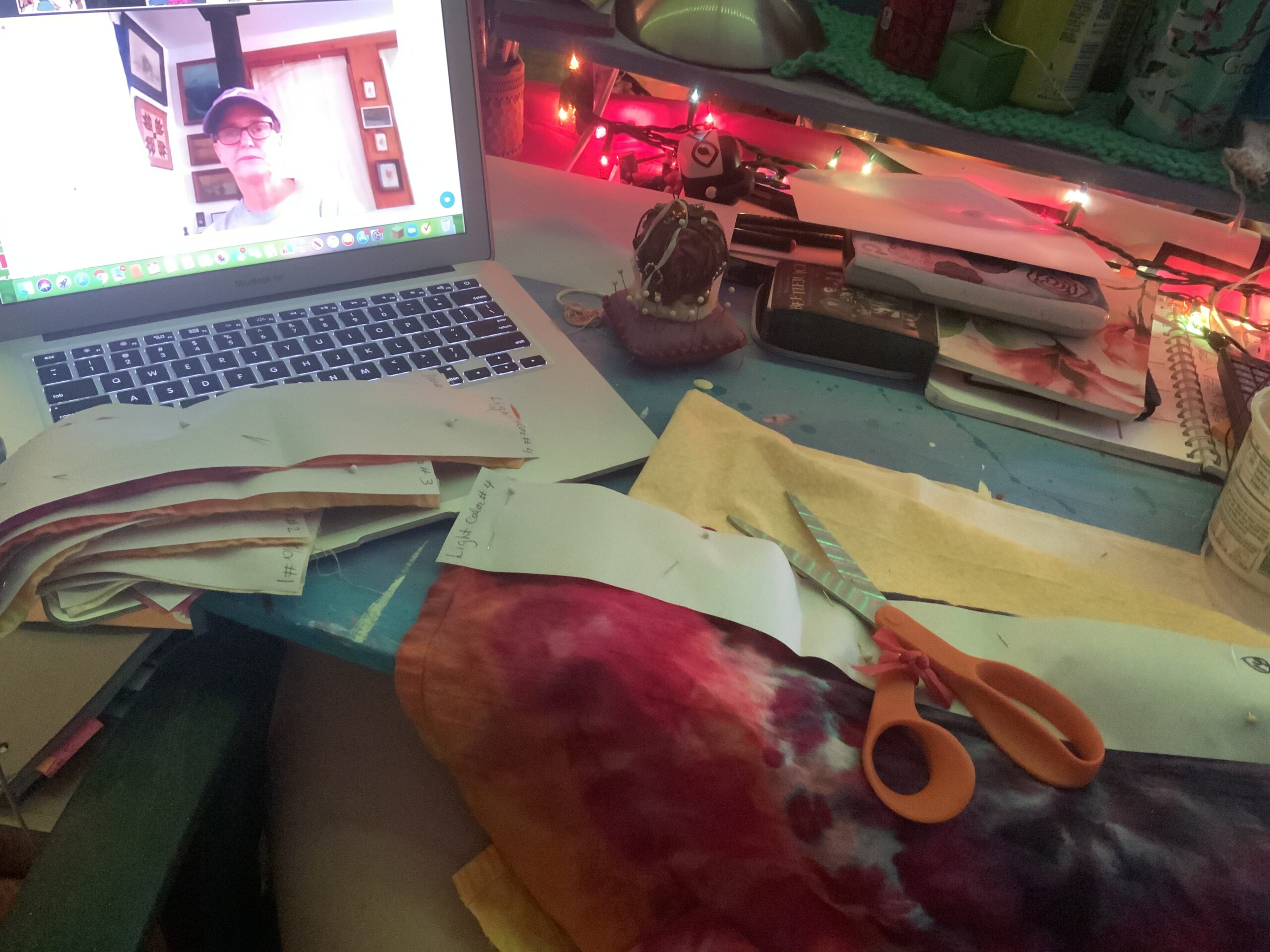 This morning, Vivi and I spent over an hour working on our quilting projects before we even got around to eating breakfast. Hooray for Clapping Hands Farm. — Jenn O'Bryan
The same hands-on participation and supportive community atmosphere we've always loved, shine straight into our home every time we connect to Clapping Hands Farm via Zoom!
— Elizabeth Bonitz
---
clapping hands farm zoom workshops!
Clapping Hands Farm is pleased to offer an exciting array of connecting, engaging, interactive online workshops! Our goal in offering these workshops is NOT to keep people on screens! Quite the opposite! We aim to ignite some new skills, friendships, and passions that will have you and your family diving deep into creating and making. We want that "I can't stop Felting!" feeling, that quilting-before-breakfast feeling, that "I just created my own song on the Mbira!" feeling. Our goal is for the OFF SCREEN creating time that these workshops inspire to outweigh the Zoom time by a good measure.
For our Fall line-up we have selected workshops that were fully tested in our summer foray into "doing camp" via Zoom and we know work WELL online.  Each workshop will include specific improvements, benefiting from the learning and insights our leaders gained this summer.
We bring our fun, respectful, welcoming camp culture with us on Zoom. Each workshop includes a check-in, where campers and staff share how they are feeling and what their week has been like, and appreciations for anyone or anything that's happened recently.
scholarships
Our camp policy is No One Turned Away. There is always scholarship assistance at Clapping Hands Farm. Please do not let $ be an obstacle. If you would like to contribute to our scholarship program, please see our DONATE page. There is a place to let us know you need a scholarship and a place to add a donation on our registration page.
guidance for families taking workshops together
Parents and Children can take workshops together to have a positive shared experience or parents can join the workshop in order to assist a camper younger than the recommended age for the workshop.
If both parent and child will be "campers" —- making projects and wanting instructor attention—- then the parent should register as a camper and either pay the camp fee or request a scholarship and request a kit for themself and their child. If you will primarily be assisting your child, consider yourself a volunteer, and thank you! If you think you'll be somewhere in-between, please set your own camp fee and order kits as you feel is appropriate!
quilting
saturday 1-3 p.m. sept. 12-dec 5 (12 weeks). ages 12 to adult (younger campers can come on a case by case basis or with adult support). $240, campers provide their own thread and fabric.
Teaching Artist Kate Hibbard says—
Hi, everyone! Waving from Rhode Island! My name is Kate and I live on an island in RI with my dogs and cats. I love sewing and quilting, and I am glad we've figured out a way to continue quilting together this fall! I sew on my Grandmother's 1928 Singer sewing machine, and I'll be using that when we meet via Zoom.
Kate will be assisted by Mina Brailey Staempfli who lives in England and has been a camp counselor at Clapping Hands Farm for the past few years!
This fall, we will start with the Rail Fence quilt block. The block itself is quite easy to make using strips of fabric. The beauty of this simple block is it offers so many design possibilities! Join us to make a pillow, pillow case, lap quilt, bed quilt, wall hanging, pot holder…or something else! Campers are invited to sew by hand, by machine or a combination of both. We'll also begin to explore different quilting techniques (such as quilt-as-you-go or big stitch quilting) that can be completed with a sewing machine or by hand (or using a combination of the two).  Kate Hibbard and Mina Brailey Staempfli are excited to continue the CHF quilting studio with you this fall! Here are PHOTOS of quilts being made this summer!
FELTING WORKSHOPS
Louise Omoto Kessel is the instructor for our Felting Workshops. She learned to felt at Clapping Hands Farm from Candace Waken at Fiber Arts Camp. Louise is a professional storyteller and the founder and program director at Clapping Hands Farm. Louise will be joined by Casey Hayes, a body worker and crafter who sent her now grown up children to camp! And Mia Kaplan, who was a camper at Fiber Arts Camp, and then a counselor, and now an artist and a fellow at Penland School of Crafts. 
world of felting
tuesdays 1-3 p.m. ages 9 to adult (younger campers can come on a case by case basis or with adult support). sept. 15-dec. 8 (12 weeks) $240 plus $40 supply fee.
Ever put a wool sweater in the washing machine on hot by accident? And it shrank and got really thick and tough? That is felting! Except we will do it on purpose using colorful wool to make wonderful things. Felting is the art of harnessing those same scientific principles that made your sweater shrink (with a little more technique and artistic control) for making whimsical or functional objects from wool or vegan fibers.
Each week Louise will demonstrate a specific technique or project. Campers will develop skills in both needle felting and wet felting. A little bit of felting experience opens the door to a huge variety of projects. . . . fun felted animals, beads, jewelry, backpack charms, patches, decorations on clothing, wall hangings, pillows, pouches and bags, felted soap — and for more advanced felters, hats, mittens and slippers. This semester long course will give a structured tour of what's possible; and campers will have a lot of room to follow their muse when choosing and designing projects.
Felt is the first cloth that people made; it is an ancient art form. Louise will share stories and images of felting traditions from all over the world, introduce the fiber plants and animals that provide our materials, and explain the science behind why it works!
This workshop is appropriate for people who are brand new to felting. This workshop is also recommended for experienced felters who are younger than 12, who want a structured workshop that will expand their skills, who want to learn more about the history and traditions of felting around the world or who find the 1-3 time slot fits well into their schedule!
felt studio for experienced felters
tuesdays 4-6 p.m. ages 12 to adult. sept. 15-dec 8 (12 weeks) $240.
campers can purchase wool as needed when they register, or order their own materials from supplier links that we will provide.
If you have felted before, feel you have mastered the basics, and are eager for more — this is the workshop for you! In this space we will work on our own projects and get inspiration from our fellow campers. Louise Omoto Kessel, Mia Kaplan and Casey Hayes, all felting enthusiasts, will provide live demonstrations as they work on their own projects as well as individual guidance to each camper to help bring the project of their choice to completion.
mbira build and play
thursdays 10:30-Noon, ages 10 to adult; (7-9 year olds welcome with a parent or adult helper), sept 17-nov 5 (8 weeks) $120 plus $35 supply fee per mbira.
Teli Shabu is the instructor for this class. Teli is originally from Liberia and part of a family of performers and artists. Teli has been bringing his big heart and inventive mind to our Clapping Hands Farm community for a dozen summers; leading drumming, story theater, adinkra printing, telling stories, and building instruments.
Mbiras (thumb pianos) originated in Zimbabwe and have been played for thousands of years. Teli shares stories and cultural context for the instrument as well as his ingenious original design that translates this tradition to materials easily found locally. In this workshop, campers will build their own Mbiras and learn to play them!  Each camper will be guided in constructing a wooden box, decorating the box with paint, installing metal keys and tuning the instrument. The result is a real musical instrument that can be used to learn traditional songs, create original tunes, and play with others. This project spans math, science, geography, culture, art and music!
---