Message from Mina (Camp Counselor)
Hi everyone! Camp family and friends!
My name is Mina, and I first came to camp as a counselor in the summer of 2017. I was 19 and visiting for the summer from London, where I lived at the time. As of this autumn, I now live in Switzerland in a big communal house with 6 other people, a dog called Jabba and a cat called Tschiorni. I get to spend more time outdoors and away from crazy big-city life, which in the time of a pandemic is truly a blessing as I am sure many of you know. 
It's hard to put into words my feelings about camp and how quickly I felt completely at home. In a way I don't think I'd ever experienced before. I was, and still am, blown away by the openness, warmth and love that fills every moment in a given camp day.
So just like that I was hooked, and have come back every summer since. Then 2020 hit. With a pandemic and a whole host of other reasons I was unable to cross the pond this summer, let alone come and put my feet in the dirt at camp. 
Luckily, this is the pandemic of 2020, not 1920, so we have other ways of keeping in touch and connected. I spent the summer and autumn working with the wonderful Kate Hibbard, helping her run the quilting class over Zoom. 
Every Saturday night, I would sit down and log into another of my homes from across the ocean in London, and then from a step further in Switzerland. Our classes have been filled with that same infectious energy, of love and creativity, that fills our days at the farm. Though the hugs and water fights are missing, the connection and sense of community that we all share is there, even from halfway across the world, and has been completely invaluable to me. 
Here's to hoping we all get to put our feet in the dirt at camp in 2021. In the meantime, I look forward to seeing as many of your faces through the screen of my laptop as possible. 
All my love and big hugs,
~ Mina
In-Person Camps for 2021
We are EXCITED to be planning ON THE GROUND at Clapping Hands Farm for In Person Camps in 2021! We are thinking through every aspect of every day to make a thoughtful, covid careful, inspired, FUN! camp environment! And we can not wait to see our CAMPERS! 
We have information on our website that we continue to update about our Covid Careful Camp Plans including what if there is a stay at home order during a camp week. Check it out if you want more details. 
HEADS UP: 
Enroll Early.

Our COVID-careful camps will be MUCH smaller than camps in the past!

Check Your Email.

We will be using a staggered enrollment process where we will be offering early registration to the camp community first and then to the general public. Early registration links will ONLY BE SENT via email prior to January 15, 2021!!

Selected Campers.

Although early registration is very likely to secure a spot in your camp of choice, we will not be running on a strictly "first come first serve" basis. This is to ensure we have a good spread of ages, plus racial and gender balance each week.  We also want to include as many campers as possible in our 2021 season, so we may prioritize getting a camper enrolled for a first camp over a different camper coming to three camps. 
Now Enrolling for Spring Break Camp
We have two amazing covid-careful camps lined up for Spring Break 2021! View more details about each camp.
Mime Camp with Jef the Mime: March 29-April 2, 2021. 9 a.m. to 5 p.m. Ages 10-14. 
Earth Romp Camp with Jan and Louise. April 5-April 9, 2021. 9 a.m. to 5 p.m. Ages 7-10.
Online registration will be open to public on January 16, 2021. However early registration will be offered to the camp community via EMAIL ONLY before January 16. Be sure to check your email!!! 
Learn more about our Spring Break Camp including fees, scholarships and how to register!
Winter Workshops on Zoom!
We still have space available for our Winter Workshops starting in January 2021!
QUILTING! Learn an amazing new quilting project with Kate Hibbard. Ages 12- Adult (or younger campers WITH a parent) Saturday's 1-3 p.m. 
TEEN ART HANG OUT! Have fun with a variety of art projects in the Teen Art Hangout with lots of guest artists and a great group of teens! Ages 13-18. Tuesday's 4-6 p.m.
ADVANCED MBIRA WORKSHOP! Upgrade your beautiful mbira with Teli Shabu. Saturday's 10:30- Noon (prerequisite: Mbira Build and Play)
DRAWING FOR EVERYONE! Learn  new drawing techniques with Emma Skurnick! Ages 9- Adult. Tuesdays 1-3 p.m.  (nearly FULL)
Register now for Winter 2021 Online Workshops!
Matching Donors for Gifts! And Please Volunteer for our Letter Writing Campaign! 
Our letter writing campaign is underway! We have a beautiful letter written by Louise, with powerful quotes from the camp community,  and graphically designed by Edith McCaskill. A team of MATCHING DONORS aimed at encouraging bigger donations will match any gift of $125 or more dollar for dollar!
As we anticipate moving back to in-person programs in 2021, our plans for these Covid Careful camps include smaller groups = smaller income and some increased expenses (we can't share art materials, everyone will need to have their own work station, tools and materials.) Enjoy our letter and if you are inspired to donate: Give Today!
JOIN OUR LETTER WRITING TEAM! SEND SOME FUNDRAISING LETTERS! Fundraising is more important now than ever! If you know a few friends, colleagues, family members who might be interested in supporting Clapping Hands, you can send them a personal note with our letter ! Each letter you write guarantees us a $10 match, donation or not! And donations of MORE than $125 will be matched dollar for dollar by a team of matching donors. If you'd like to help with this project, please email Anna or Alex at annamarie.chfarm@gmail.com or spoonnerz@gmail.com! 
Volunteers Needed for Upcoming Projects Other volunteers opportunities we have include:
Our HANDS-ON VIRTUAL Zoom Workshops need volunteer counselors and tech support volunteers. 

This is a fun way to  connect with the camp community and be part of a creative community all from the comfort of your own home and with no commute! We need TECH SUPPORT for The Advanced Mbira Workshop Saturday mornings 11 a.m. and for Drawing for Everyone Tuesday 1 p.m. We need a counselor for Advanced Mbira Saturday mornings at 11 a.m.

COVID Careful experiments.

Starting early in 2021, we are planning to run "COVID Careful experiments" at the farm. We are hoping to have volunteers that want to come out to the farm and experiment with what a camp day will look like with COVID precautions in place! Interested ? Email us @ clappinghandfarm@gmail.com!

Workdays at Farm.

We have had an AMAZING time this fall with work days at the farm! We are always looking for volunteers who want to come out and help beautify the farm, clean up, and organize!! Interested? email Louise at clappinghandsfarm@gmail.com OR text her at 919-542-5599. OR Fill out Volunteer Form 

Spring Break and Summer Camp VOLUNTEERS needed!

We will need one adult volunteer and two volunteer counselors  (usually high school or college students) each week. 
THANK YOU! To the amazing volunteers who are helping us with workdays at the farm, with our letter writing campaign, administrative tasks, newsletter articles,  and those have been helping with our Zoom workshops! We couldn't do this without you! Special Thanks to Heather Rainville "Detail Wizard-In-Training" a Super Volunteer who is helping with our registration responses!
Volunteer Spotlight: Kate Hibbard
(written by: Emerson Croft)
Kate Hibbard spends her days in her home on Prudence Island in Rhode Island with her 6 animals – three dogs and three cats. She works in the Teacher Certification Program at Providence College, helping other people become excellent teachers just like her. When she's not working, she takes her dogs for walks on the beach, cooks, quilts, and teaches quilting with Clapping Hands Farm. Although Kate had been sewing since 5th grade, it wasn't until her senior year of college that she learned to quilt. Her sophomore roommate chose Kate as her Maid of Honor and Kate decided to make a quilt as a wedding gift. She didn't quilt again for over two decades, only coming back to it when a friend retired in 2005 and picked it up as a hobby. Her updates to Kate gave Kate the itch to get back into it, and she said she hasn't sewn a garment since. 
Kate's favorite thing about quilting is when she quilts on her grandmother's sewing machine – an old powered machine from the 1920's. She said she still has some items from her parents that she uses sometimes as well. Quilting using supplies and materials from her family is a way for her to continue to connect with those who have passed. She feels like they're still standing with her, looking over her shoulder at the work she's doing. Based on what I've seen of Kate's wonderful work, I think they would approve. Teaching quilting online has been a learning experience for Kate. The limits of her knowledge have been tested as people ask questions that she doesn't know the answers to – when that happens, though, they all learn together. For her, teaching, and especially teaching online, is a humbling experience. She has knowledge and skills that other people want to learn.
When I asked her about her favorite things about Clapping Hands Farm, she said her most favorite thing is how accepting the camp community is. We all get to be exactly who we are in any given moment and who we are is uplifted and appreciated. That, she says, is a gift.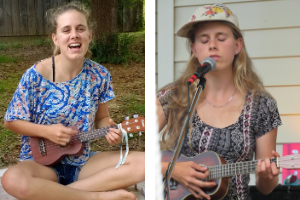 Community News and Connections
Sarah Perry & the Confluence is creating music & connection on Patreon. Your support helps her continue to craft a life full of deep connection and art in her woods home and in all the communities that form, feed, and inspire her! Visit her patreon page.
Jimmy Magoo airs on Facebook Live every Sunday at 7 p.m. If you missed him performing last month with guest Louise Omoto Kessel, watch the replay.
Louise is telling stories again! She is setting up storytelling for small groups outside or over zoom. Let her know if you have an idea for a program in your yard or with your child's school or with a group you are part of. Contact her about storytelling at storytellerlouiseok@gmail.com
Edith McCaskill recently performed at the 12th annual Congo in Harlem concert which celebrated the art and culture of the Congo and its extensive historic diaspora. Watch her live performance.
Clyde Jones is our beloved Chatham County Critter Artist from Bynum NC and one of the most big hearted and generous people we know. He is now living in an assisted living facility in Pittsboro. Clyde is someone who LOVES kids and LOVES animals and LOVES art. Louise is collecting KIDS DRAWINGS OF ANIMALS to deliver to Clyde. Please send your drawings to her at 3348 Alston Chapel Road, Pittsboro, NC 27312 and she will deliver them! She can guarantee he will LOVE this SO MUCH!
 Josh Lozoff's "Virtually Impossible" show is a brand-new, completely unique, totally mind blowing evening of magic and mind reading beamed right into your home. Upcoming shows air: Jan 29 and 30, 2021. Order your tickets!
Every second Saturday of the month, during the winter, Cindy Raxter hosts the Bynum Front Porch Storytelling Series which airs on Facebook Live at 7 pm. Watch last week's show.
Alex Nelson welcomes inquiries for 1-1 ukulele or guitar lessons via Zoom and is open to providing some scholarships as needed. Contact Alex directly at 336-926-2016 or spoonnerz@gmail.com
In addition to our Facebook page, we created a private Facebook Group where you can stay connected with Clapping Hands Farm community members! Join our FB Group! 
Also, Please let us know if you need assistance during this time! Or if you'd like to assist! There are some camp families who are struggling through this pandemic with basic needs and our clapping hands farm community is providing grocery store gift cards and other assistance.
Lastly, send your NEWS for the next newsletter or share it in our new facebook group!! Concerts, events, awards, baby births, marriages, sickness, help needed, your personal business classifieds. . . . we'd like to support, celebrate and connect people here!Send your NEWS for the next newsletter! Concerts, events, awards, baby births, marriages, sickness, help needed, your personal business classifieds. . . . we'd like to support, celebrate and connect people here!