We had our first Ukulele Camp in 2016, the same year Sarah Perry came to Clapping Hands as an intern, and the resulting chemistry has created some big Ukulele love at Clapping Hands Farm!
Ukulele lessons
Clapping Hands does not have any ukulele classes happening this Fall. We can highly rcommend our friend and Ukulele Instructor Alex Nelson who currently offering Ukulele and Guitar lessons 1-1 via Zoom and is open to providing some scholarships as needed. Contact Alex directly at 336-926-2016 or spoonnerz@gmail.com
---
Ukulele band
UPDATE: we are currently evaluating when and how to begin our ukulele band rehearsals. Please check back!
Ukulele band is an all ages band for anyone who has learned to play ukulele at Clapping Hands Farm! We practice on Sundays either in Pittsboro or Chapel Hill/Durham and represent Clapping Hands Farm by performing songs of many different genres at local events and fundraising parties throughout the year. Together we play, sing, and spread our love for ukulele, camp, & our community!
Ukuleles are the main focus BUT other instruments are welcome and encouraged if they can easily compliment the ukuleles and be incorporated into the songs we are practicing together. Please talk to Sarah if you would like to play another instrument in the band.
Cost: $5-$15 per practice per person suggested donation.
If you are excited to play & perform we want you to join the Ukulele Band family regardless of funds. Please pay what is doable for you and your family. We have extra ukuleles if you don't have one.
Email, Call, text or email Sarah Perry if you would like to get involved
Phone: 919-830-7294
email: sarahp.chfarm@gmail.com
ukulele band performances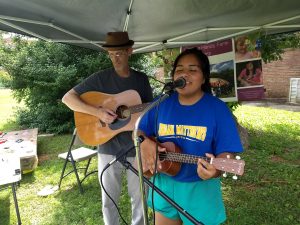 Here are some of the places the band has performed:
Shakori Hills Festival as part of the Big Wonderful Variety Show put on by Clapping Hands Farm, Silk Hope NC
Chatham Mills Farmers Market, Pittsboro NC
Clyde Fest, Bynum NC
Bridge Fest, Bynum NC
Chatham Arts Council's Pig Pickin' fundraiser with Tommy Edwards and the Blue Grass Experience, Pittsboro NC
Fiesta,  Siler City NC
Day of the Books,  Siler City NC
Please see our calendar or current newsletter for dates and times of upcoming events!
---
Ukulele band bookings
Please contact Sarah Perry at sarahp.chfarm@gmail.com if you are interested in the Ukulele Band coming to perform at your festival, event or organization.
---
Ukulele camp
Ukulele Camp 2021? YES! Stay tuned! We hope to post our Summer Camp schedule in January.
Song writing workshop series
We had a wonderful workshop with Emma's Revolution in October of 2019 and are looking forward to having more songwriting workshops. Shana Tucker, Vessna Scheff, Reggie Harris and Kathleen Hannon have all expressed interest in leading a workshop, and these are all fantastic artists and workshop leaders both! This was paused for 2020, but we hope to begin again in 2021 Fall!
---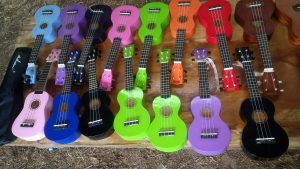 ---