We had our first Ukulele Camp in 2016, the same year Sarah Perry came to Clapping Hands as an intern, and the resulting chemistry has resulted in some big Ukulele love at Clapping Hands Farm! We've had Ukulele Camp every year since and Sarah Perry keeps ukulele going all year long! Our Ukulele Band practices and performs regularly!
ukulele band practice
Anyone who has learned to play ukulele at Clapping Hands Farm is welcome and encouraged to come to Ukulele Band Practice! This is NOT a ukulele LESSON, so you do need to know how to play to join the band.
At Clapping Hands Farm most Tuesdays for the rest of 2018 from 4:00 – 5:30 p.m.
In Chapel Hill/Durham once a month: 11/18 from 1-3 p.m. and 12/9 from 1-3 p.m.
At band practice we learn and practice songs that we may perform at a community event or at a fundraising party.  So, the band definitely has many performance opportunities!
ukulele band performances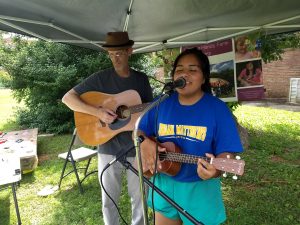 Here are some of the places the band has performed:
Shakori Hills Festival as part of the Big Wonderful Variety Show put on by Clapping Hands Farm, Silk Hope NC
Chatham Mills Farmers Market, Pittsboro NC
Clyde Fest, Bynum NC
Bridge Fest, Bynum NC
Chatham Arts Council's Pig Pickin' fundraiser with Tommy Edwards and the Blue Grass Experience, Pittsboro NC
Fiesta ,  Siler City NC
Day of the Books,  Siler City NC
---
ukulele band bookings
Please contact Sarah Perry at clappinghandsfarm@gmail.com if you are interested in the Ukulele Band coming to perform at your festival, event or organization.
ukulele camps and workshops
See our 2019 camps page for info on the 2019 Ukulele Camp!
We have an Advanced Ukulele weekend planned for January 12-13—–ADVANCED UKULELE WORKSHOP
You also might be interested in our Song Writing Workshop series. We had a wonderful workshop with Emma's Revolution in October and are looking forward to having workshops every couple of months. Shana Tucker, Vessna Scheff, and Kathleen Hannon have all expressed interest in leading a workshop, and these are all fantastic artists and workshop leaders both!
We have had many requests for UKULELE CLASSES during the year. We don't have anything specific in the works at this time, but we are hoping to offer classes at some point.
---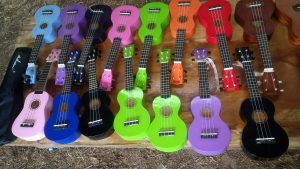 ---
---
UKULELE BAND PRACTICE on Tuesdays at Clapping Hands Farm from 4 p.m. to 5:30 p.m. This is open to Ukulele Camp "alumni" or people who have some ukulele experience. This group practices songs and develops skills and then represents Clapping Hands Farm at community events (Clyde Fest, Farmers Market, Shakori Hills, etc.) and fundraising parties for our camp scholarship program. So there are performance opportunities for this group!Sarah Perry is excited about expanding our ukulele offerings this year. There is talk of Ukulele Band Practice in various towns (Durham, Chapel Hill-Carrboro, Alamance Co). There is talk of group lessons at different skill levels. So, stay tuned for MORE info on all of that as we get clear of Summer Camp Season and have a little more time to ponder!
If you would like to be sign up for Tuesday Ukulele Band Practice or to be notified about upcoming Ukulele offerings, fill out this survey and we'll keep you in the loop!