message from louise (founder and director)
A few years ago a loving supporter challenged us to make our project SUSTAINABLE. She didn't just mean that camp at Clapping Hands could go many years into the future, she meant it could also sustain, in good health, the staff and volunteers that make it all go. As 2018 come to a close, I am tasting the fruits of the work we've done over the past three years in that direction. We aren't ALL the way there yet, but we are clearly moving in the right direction. Our work to cover our scholarship program with donations means we have enough money now to build a year round staff team. I was paid all 12 months of the year in 2018 for the first time ever. Mardi Magoo and Sarah Perry continue to work their magic at camp and behind the scenes. We are growing our INTERN program this year, with several paid internships focused on specific things. And I'm in the process of finding and training one or two permanent year round team members who can assume many of the administrative tasks I have done to keep Clapping Hands going!
Summer 2019 is our TWENTIETH camp season! Our campers and counselors from "back when" are having children. I ran into LaToya Watson and her sister Ernie Carter with all their kids at the Kwanzaa celebration in Durham January 1, Lamar Lewis was there too with his little one, and hearing Lamar drum again made me smile. I've only seen Emily Henley's baby and Meta Endres baby on facebook! But they are HERE! It pleases me so much to know people from age 8 or 15 or 0 (I was there when Meta was born!) all the way till when I'm begging them to bring their babies to camp!
Our 2019 Camp Registration is OPEN! Spring Break and Summer Camps. Some details being filled in still, but you CAN sign up! Let's GO!
2019 CAMP REGISTRATION
events upcoming!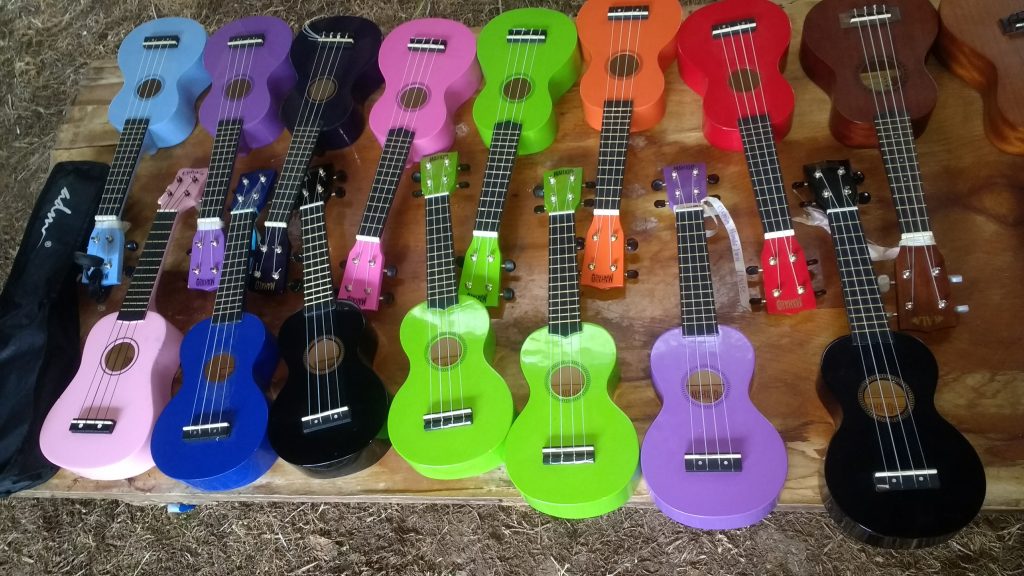 Advanced Ukuelele Workshop with Alex Nelson
January 12-13, Saturday 10 a.m. to 9 p.m. Sunday 10 a.m. to Noon.
Sliding scale $100-$200, Scholarships available.
Recommended for ages 16- adult.
Limited to 6-8 players. Lots more details on the registration form below!

REGISTER- ADVANCED UKULELE WORKSHOP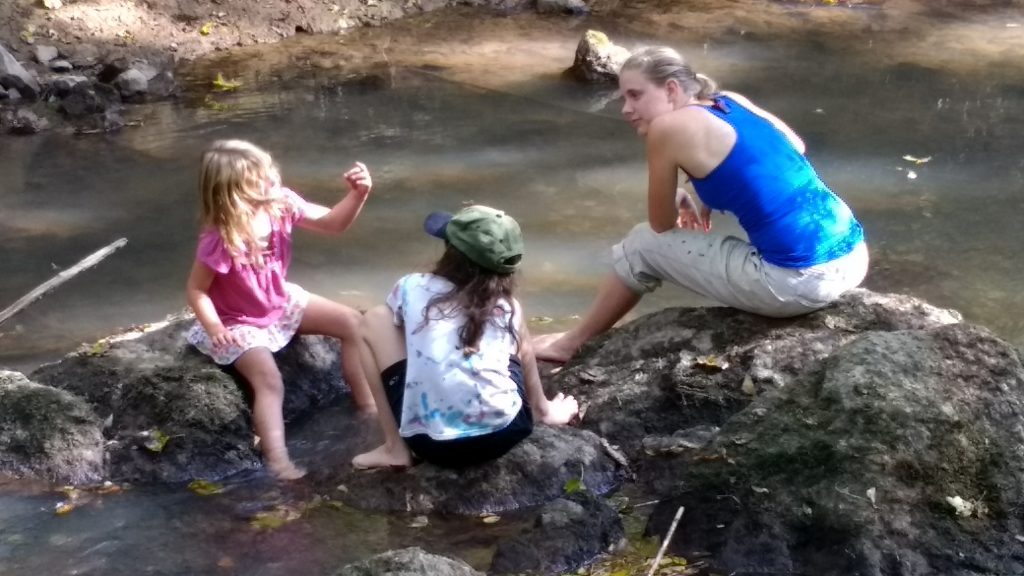 Tuesday Art Camp for Homeschoolers
9 a.m. to 3:30 p.m. each Tuesday. Recommended for ages 10-16.
Session 3- January & February. Art with Louise or Outdoor Explorers with Sarah Perry.
Session 4 March-April-May. Builders Camp!
REGISTER – ART CAMP
fundraising letter writing parties!
We have FUNDRAISING LETTER WRITING PARTIES in January. Our Fundraising Letter raised $6000 for our scholarship program last year with about 25 people sending 170 letters. This year our goals is to involve 50 people from the camp community and send 300+ letters and hope to raise $10,000! All the money raised goes to our big beautiful scholarship program. We'll need LOTS of volunteers to make our goal!
We provide a beautiful letter, (thank you Christie Croft for writing our 2018-2019 fundraising letter!) You bring your address book, add a personal note to each letter and send them with love to your friends, family, co-workers and contacts! You can send letters from home (let us know how many you need and we'll get them to you.) But it is much more effective to come to one of our letter writing parties. It really helps to have the time set aside that way; the letters have a way of actually getting out versus lying around until you guiltily recycle them. PLUS you get to do it with friends and we'll provide envelopes and stamps!
PLEASE LET US KNOW IF YOU CAN COME TO ONE OF THESE PARTIES! So we can plan the food!
Fundraising Letter Writing Sign Up
Would you like to host a fundraising party? It's fun and easy! Good locations for additional parties might be: North Chatham, Saxapahaw, Siler City, Silk Hope, or Durham.
volunteer opportunities
FIREWOOD BRIGADE! January 19, 10 a.m. to 1 p.m. Rain Date January 20, 1 p.m. to 4 p.m. Come work outside and help us get our firewood together so we can run cozy warm workshops indoors during the winter months.
ONGOING TASKS:
washing things and returning them clean- simple things that need doing regularly or occasionally- for example, running lost and found through the washing machine and then taking the stuff to donate.
workdays- we need to gather more firewood for our winter workshops
making stuff- we need to make art cards, Louise wants some help testing projects.
events- we try and make a regular appearance at community events to let people know who we are and what we are doing! Volunteers are needed to run activities and talk with people.
fundraising- Host a fundraising party (an event where you invite people YOU know who you think might want to support clapping hands farm to your house, we provide information and entertainment, and collect donations.) Send fundraising letters (see above). Host a fundraising letter writing party in your house.
Tuesday Art Camp- we can use volunteers to lead projects, assist with projects and work with young people at our Tuesday Art Camp all year long.
Interested in VOLUNTEERING in any of these ways? Please fill out this simple form to get plugged in.
VOLUNTEER FORM
Or contact Volunteer Coordinator Mardi Magoo at clappinghandsfarm@gmail.com
new website!
Our new website is LIVE! www.ClappingHandsFarm.com
I really hope you love it!
---
spring break and summer camps!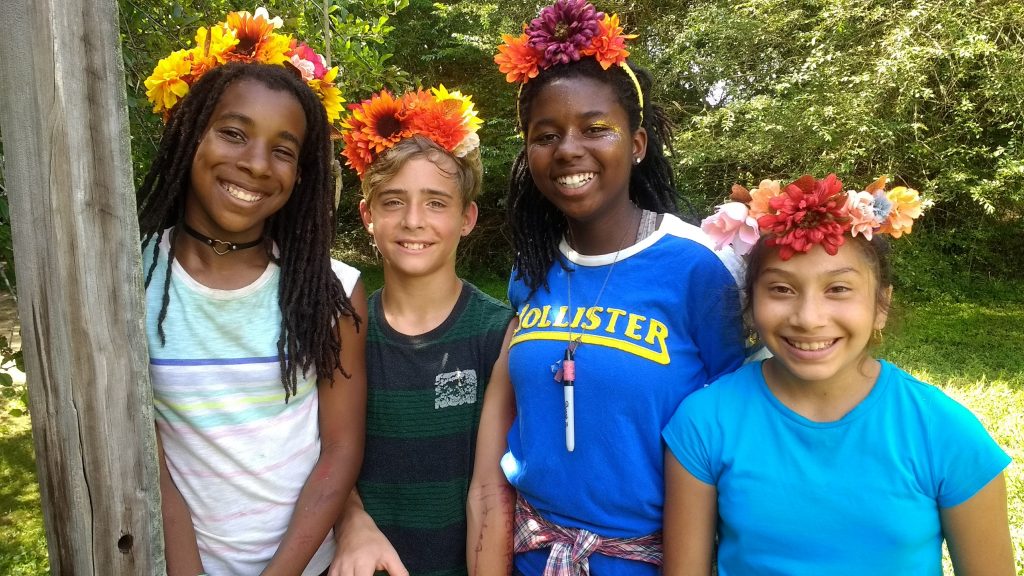 Spring Break and Summer Camps are posted on our new website.
Early Bird Registration for Spring Break Camp is open, with Early Bird Discounts until January 31.REGISTER – SPRING BREAK CAMP
SUMMER CAMP 2019 REGISTRATION IS LIVE! Yay!
2019 CAMP REGISTRATION
coming in 2019
NOTE! All of our clapping hands farm events, programs, workshops, fundraising letter writing parties, ETC. are listed on our NEW website's CALENDAR!
Advanced Ukulele Workshop. January 12-13, 2019
NEW schedule for UKULELE Band Practice coming soon. Check the Website under PROGRAMS and look for emails from Sarah Perry if you are in the band! Let us know if you WANT to be in the band.
Songwriting Workshops, hoping to have one or two this winter-spring. Kathleen Hannon, Shana Tucker, and Vessna Scheff are all interested in leading one!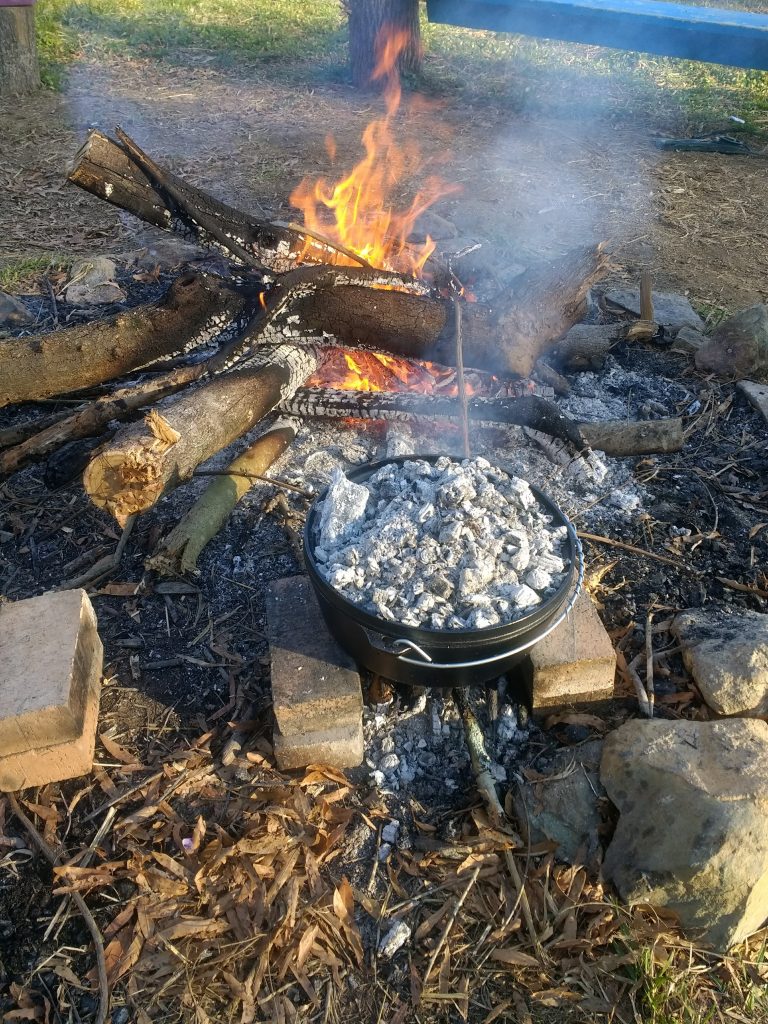 Family Campfires! We have decided (sadly) that we don't have the staff attention to run our Friday Night Outdoor Explorers this Spring. BUT we will have TWO Family Campfires with some of that same energy and fun! Dates are: February 22, 5-9 p.m. Raindate February 23, same time.
We'll have another one in the Spring, stay tuned!
Storytelling Workshop with Louise- this performance oriented class for ADULTS will meet weekly for 8 weeks and culminate in a sharing of stories for friends and family. Time and Location TBA. Please register your INTEREST by emailing louiseomotokessel@gmail.com
thank-you!
We had a wonderful FUNDRAISING PARTY November 4th at Celebrity Dairy. Lots of volunteers provided a mini art party for the children who came (lots of NEW potential campers!), our Ukulele Band sang out strong! Lots of new people heard about our programs at Clapping Hands. Lots of camp parents gave beautiful testimonials. And we raised a bunch of money for our scholarship program $2145 to be exact, which will be MATCHED! Thank you so much to hosts John & Elizabeth Bonitz and Brit and Fleming of Celebrity Dairy , to all the volunteers (to many to name!), to all the donors, and all our new friends!
These fundraising parties are our favorite way to raise money for our scholarship program because they are not only super effective in the fundraising realm, but they are as close as we get to giving new supporters a real taste of camp. The contact is personal and inspiring.
I am looking to put fundraising parties on the calendar for 2019— if you are interested in hosting one, please let us know. You just need to be willing to open your home and invite YOUR friends, neighbors, colleagues, customers etc. to come have an enjoyable afternoon of camp entertainment and conversation in support of our scholarship program. Call or email Louise at 919-542-5599, clappinghandsfarm@gmail.com
Volunteers also showed up to represent Clapping Hands at the MONSTER DASH on Oct. 13. And our campers sold handmade stuff at the Bynum Front Porch Holiday Craft Sale.
The Clapping Hands Farm Ukulele Band played at a fundraising for the Chatham Arts Council's Artists in the Schools program on November 11. We also provided a hands-on art project available in the lobby. Tommy Edwards and the Blue Grass Experience was the featured performer! Thank you Mardi, Candace, Ben, Sarah, Angelica, Lenore, Sofia and Sophia for representing Clapping Hands so well!
A small but mighty crew of volunteers cut and hauled firewood on our WORKDAY Oct. 20. Thank you! Mardi, Cosmo, Louise, and Dave Hopp. Our winter workshops will appreciate the warmth! We should do this again soon! Let us know if you'd like to help!
We did our first SONGWRITING WORKSHOP for teens and adults with Pat Humphries and Sandy Opatow of Emma's Revolution on Oct. 13. It was so wonderful, we've decided to make songwriting workshops a regular feature of our upcoming programming! Stay tuned!
Thanks to all who showed up for our HOMECOMING Campfire November 23! We plan to make this a tradition so ALUMNI ESPECIALLY put this on your calendar for November 29 (day after Thanksgiving) 2019!
Special shout out to VOLUNTEER LIBBY SEARLES BOHS who has been working steadily with Louise to raise our camp accounting to a whole new level in 2018!