We had our first Ukulele Camp in 2016, the same year Sarah Perry came to Clapping Hands as an intern, and the resulting chemistry has resulted in some big Ukulele love at Clapping Hands Farm! We've had Ukulele Camp every year since and Sarah Perry keeps ukulele going all year long! Our Ukulele Band practices and performs regularly!
ukulele band practice
Anyone who has learned to play ukulele at Clapping Hands Farm is welcome and encouraged to come to Ukulele Band Practice! This is NOT a ukulele LESSON, so you do need to know how to play to join the band. Call of text Sarah Perry if you would like to get involved 919-830-7294
Here's the SCHEDULE!
SUNDAY February 10, 2-4 p.m. (Chapel Hill/Durham)
SUNDAY February 17, 2-4 p.m. at Clapping Hands Farm
SUNDAY February 26, 2-4 p.m. at Clapping Hands Farm
SUNDAY March 3, 2-4 p.m. (Chapel Hill/Durham)
SUNDAY March 10, 2-4 p.m. at Clapping Hands Farm
SUNDAY March 17, 2-4 p.m. at Clapping Hands Farm

Cost: $20-$60 for the four practices at CHF; $5-$15 per practice for the Chapel Hill/Durham practices. Please come regardless of your ability to pay!
At band practice we learn and practice songs that we may perform at a community event or at a fundraising party.  So, the band definitely has many performance opportunities!
ukulele band performances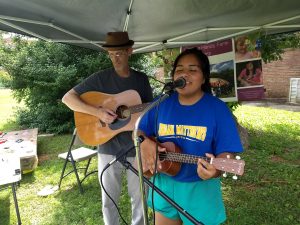 Here are some of the places the band has performed:
Shakori Hills Festival as part of the Big Wonderful Variety Show put on by Clapping Hands Farm, Silk Hope NC
Chatham Mills Farmers Market, Pittsboro NC
Clyde Fest, Bynum NC
Bridge Fest, Bynum NC
Chatham Arts Council's Pig Pickin' fundraiser with Tommy Edwards and the Blue Grass Experience, Pittsboro NC
Fiesta ,  Siler City NC
Day of the Books,  Siler City NC
Please see our calendar or current newsletter for dates and times of upcoming events!
---
ukulele band bookings
Please contact Sarah Perry at clappinghandsfarm@gmail.com if you are interested in the Ukulele Band coming to perform at your festival, event or organization.
ukulele camps and workshops
See our 2019 camps page for info on the 2019 Ukulele Camp!
You also might be interested in our Song Writing Workshop series. We had a wonderful workshop with Emma's Revolution in October and are looking forward to having more songwriting workshops. Shana Tucker, Vessna Scheff, and Kathleen Hannon have all expressed interest in leading a workshop, and these are all fantastic artists and workshop leaders both!
We have had many requests for UKULELE CLASSES during the year. We don't have anything specific in the works at this time, but we are hoping to offer classes at some point.
---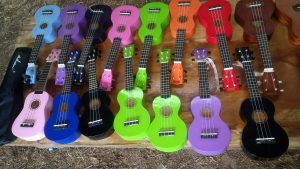 ---
---