update to february newsletter!
FAMILY CAMPFIRE rescheduled for MARCH 1. 5-9 p.m. with a rain date MARCH 2, 5-9 p.m.. Weather, some other important priorities, and the fact that only ONE family had registered for the campfire added up to us thinking a shift in dates was best. PLEASE REGISTER! We'd love to have a crowd for games, cooking on the fire, etc. March 1 or 2!
WORK DAY rescheduled for March 2, we will be pulling in more firewood, cleaning up for camp, and more! Sign up to join in the fun on March 2 or to sign up for volunteering in general HERE, or contact Volunteer Coordinator Mardi Magoo at clappinghandsfarm@gmail.com
JOB POSTING for CLAPPING HANDS FARM ARTS ADMINISTRATOR! So excited about this! Read the wonderful job description and then forward EVERYWHERE and send to EVERYONE you think would be awesome and POST ALL OVER. Everytime you share this thing you increase the odds of us finding the just right person for the Clapping Hands Farm team!
CALL FOR COUNSELORS! We are actively in the process of hiring COUNSELORS for our 2019 camp season! We love working with people already IN our camp community and we love meeting talented NEW people. I'm especially seeking COUNSELORS 16 years old and up. People who have experience and skills related to our camp themes are particularly needed (ie. people who play and can teach band instruments for Music and Dance camp's JAZZ BAND. New or old—- the FIRST step is to fill our our COUNSELOR INTERVIEW FORM (can be done outloud if you are more comfortable talking than writing.)

CAMP REGISTRATION IS OPEN and LIVELY. Suggest you sign up for camp EARLY this year, our registration for camps has never been this full this early, and we want EVERYBODY BACK!
There will still be a MARCH NEWSLETTER, and I won't usually send more than one newsletter per month—– but had to let you know about the schedule changes and wanted help with spreading the word about the JOB POSTING and everything else! So, extra news this month! —— Love, Louise
message from louise (founder and director)
Our 2019 Camp Registration is rolling and people are signing up for camp! Yay! We can't wait to see everyone, and we'd like to encourage you to sign up early! (ensures you have a spot and make our job easier.) And to spread the word about camp magic and our 2019 camp schedule (sharing camp with your friends is fun and your word of mouth publicity keep our focus on creating stellar programs!).
2019 is our 20th season of summer camp! I've got several ideas about how exactly to celebrate this, but my FIRST priority is to try and bring back as many "old timers" as possible! This summer I want 1 or 2 of our counselors EVERY WEEK to be fabulous counselors from "way back when" joining us for an encore performance! If you are one of those people—- call me! or expect a phone call or message from me. If you are in touch with one of those people and can put me in touch with them, please do. If you WISH to see a particular person from camps past, put in your request and I'll see what I can do about finding them. I'm really excited about this!
I wanted to bring your attention to a NEW PAGE on our website for Community News. Please send your news when you have it and I'll try and get it all posted. Births, projects, passages.
2019 spring break and summer camps!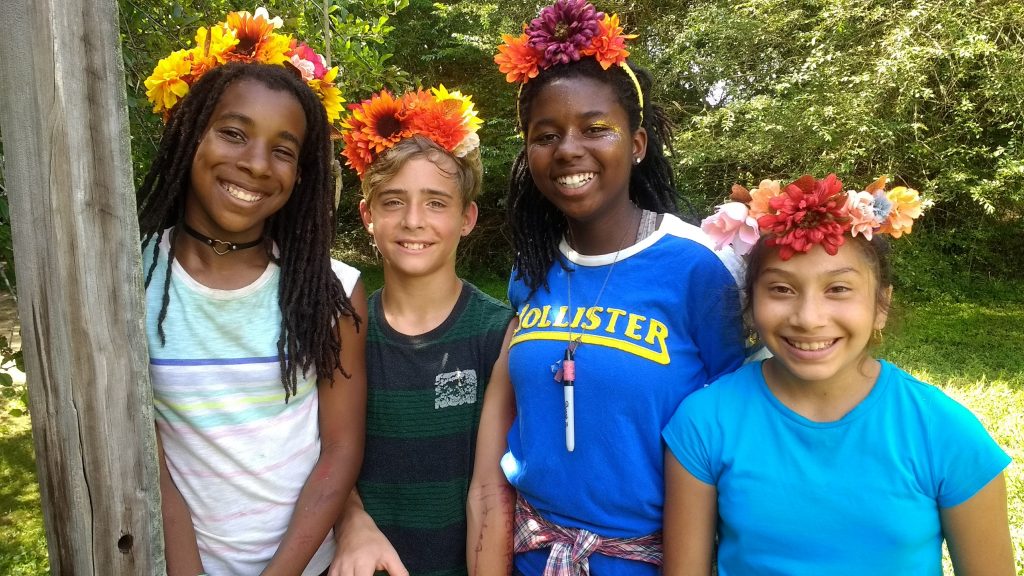 Camp registration is OPEN! All the 2019 Camp Schedule details are on our website!
2019 CAMP REGISTRATION
Anything Goes Spring Break Camp! March 25-29 and April 15-19, for ages 7-14

Art Party Camp! May 27-31 and June 24-28, for ages 2-8

Toys and Games Camp! June 10-14, for ages 7-13
Music and Dance Camp! (aka Jazz, Hip Hop Camp) July 8-12, for ages 9-16
Arts Focus Camp! July 22-26, for ages 13-18
Stepping Stones Camp! August 5-9, for ages 5-10
Ukulele Camp! August 19-23, for ages 10- adult
spring programs and events at clapping hands
TUESDAY ART CAMP FOR HOMESCHOOLERS!
9 a.m. to 3:30 p.m. each Tuesday. Recommended for ages 10-16.
Session 4 March-April-May. Builders Camp!
REGISTER – ART CAMP
FAMILY CAMPFIRES!
Games in the dark! Star Gazing and Telescopes, Potluck Yumminess and Campfire Cooking, Music Around the Fire! Hanging out with Friends! We LOVE our Family Campfires! PLEASE REGISTER HERE if you are coming so we know how many to plan for!
Family Campfires Spring 2019

March 1, 5 p.m. to 9 p.m.
Weather Make Up Day: March 2, 5 p.m. to 9 p.m.
April 6, 5 p.m. to 9 p.m.
Weather Make Up Day: April 7, 5 p.m. to -9 p.m.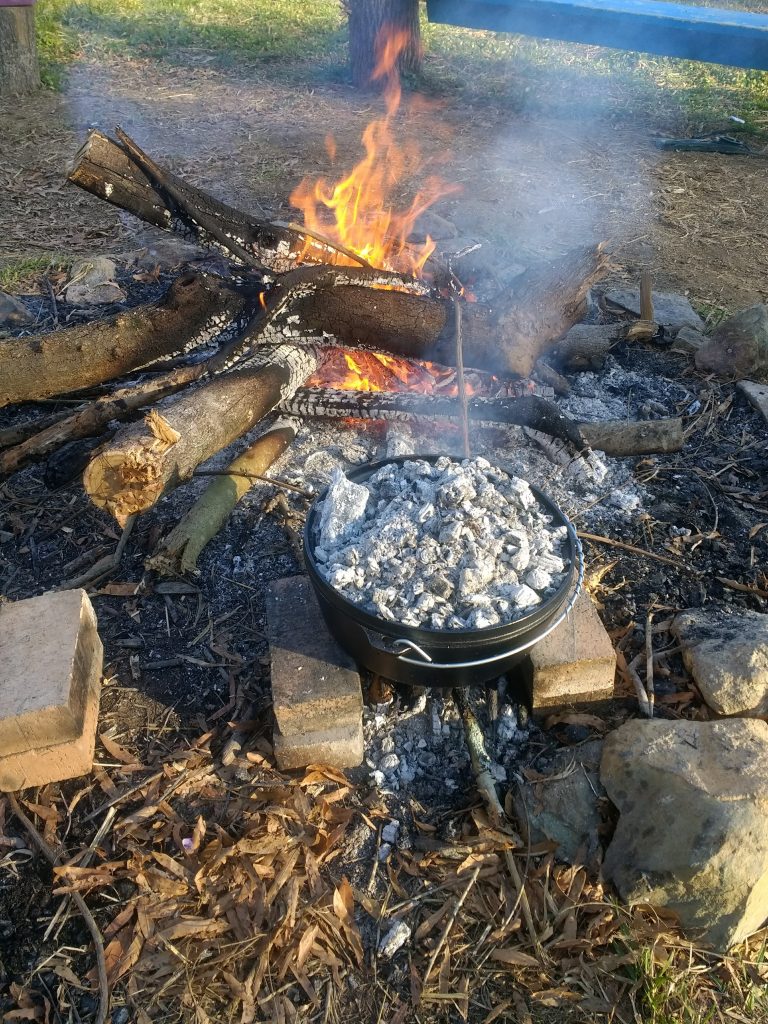 seeking an arts administrator for Clapping Hands Farm!
We are actively seeking an Arts Administrator for Clapping Hands Farm! This will be a year round position at 20 hours a week. Please ask anyone you know that could be a perfect match for us to send a cover letter and a resume. We will have a job description and additional information posted soon under the STAFF/Work With Us page of our website.
fundraising volunteers needed!
SEND SOME FUNDRAISING LETTERS
There is a matching donor who is encouraging participation in our letter writing campaign by donating $10 for EVERY letter we send! You send $10 letters and automatically raise $100 for our camp scholarship program! WOW! We provide a beautiful letter, (thank you Christie Croft for writing our 2018-2019 fundraising letter!) You bring your address book, add a personal note to each letter and send them with love to your friends, family, co-workers and contacts! You can send letters from home (let us know how many you need and we'll get them to you.) Or Louise (who still has lots of letters to send herself) will arrange to meet you and do it together—- much more fun and much more likely to actually get done!
HOST A FUNDRAISING PARTY!
Fundraising parties are our favorite way to raise money for our scholarship program because they are not only super effective in the fundraising realm, but they are as close as we get to giving new supporters a real taste of camp. There can be art activities for children, music from our ukulele band or other camp performers, storytelling, and Louise talking about camp magic and our precious scholarship program. The contact is personal and inspiring.
I am looking to put fundraising parties on the calendar for 2019— if you love camp, please consider hosting or co-hosting one. You just need to be willing to invite your friends, relatives, neighbors, colleagues, customers etc. to come have an enjoyable afternoon of camp entertainment and conversation in support of our scholarship program. Call or email Louise at 919-542-5599, clappinghandsfarm@gmail.com

VIDEOGRAPHER VOLUNTEER NEEDED FOR CROWD FUNDING VIDEO
We need a really good 3-5 minute video about our camp scholarship program for our summer crowd funding campaign. If you or anyone you know has these skills and might be willing to donate their services, please let us know!
volunteer opportunities
WORKDAYS AT THE FARM!
Come to the farm and work outside with friends and help us bring in firewood, clear brush, organize and clean things, mow grass, and fix things!

February 23rd, 10 a.m. to 1 p.m.
March 16, 10 a.m. to 1 p.m.
April 6, 2 p.m. to 5 p.m.
May 11, 10 a.m. to 1 p.m.
ONGOING TASKS:
Events- we try and make a regular appearance at community events to let people know who we are and what we are doing! Volunteers are needed to run activities and talk with people.
Tuesday Art Camp. Spring Break Camp and Summer Camp- we can use volunteers to lead projects, assist with projects and work with young people!
Washing things and returning them clean- simple things that need doing regularly or occasionally- for example, running lost and found through the washing machine and then taking the stuff to donate.
Making stuff- we need to make art cards, and Louise wants some help testing projects.
Interested in VOLUNTEERING in any of these ways? Please fill out this simple form to get plugged in.
VOLUNTEER FORM
Or contact Volunteer Coordinator Mardi Magoo at clappinghandsfarm@gmail.com
interns!
Beyla Munach is working as an intern in the area of fundraising and money tracking! Anabelle Maya is working as an intern in the area of outreach and support to our scholarship program. Lenore Ramos is working as an intern in the area of hiring, contracts and support to our people of color commitment. A couple more people are in the wings waiting to come on with regular hours, and I gotta say this year round involvement of our smart amazing camp counselors is making me very happy!
ukulele band practice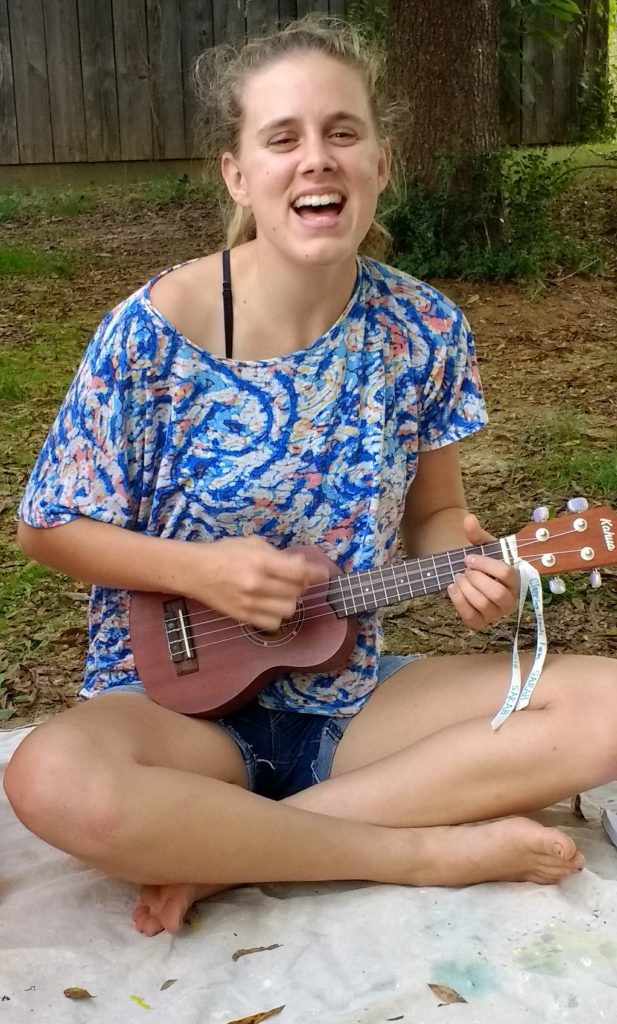 People who have learned how to play the ukulele at Clapping Hands Farm are welcome to come to Ukulele Practice and join our Ukulele Band which performs at events in the community. Call or text Sarah Perry if you would like to get involved 919-830-7294.
Here's the SCHEDULE!
SUNDAY February 10, 2-4 p.m. (Chapel Hill/Durham)
SUNDAY February 17, 2-4 p.m. at Clapping Hands Farm
SUNDAY February 26, 2-4 p.m. at Clapping Hands Farm
SUNDAY March 3, 2-4 p.m. (Chapel Hill/Durham)
SUNDAY March 10, 2-4 p.m. at Clapping Hands Farm
SUNDAY March 17, 2-4 p.m. at Clapping Hands Farm

Cost: $20-$60 for the four practices at CHF; $5-$15 per practice for the Chapel Hill/Durham practices. Please come regardless of your ability to pay!
spring events in the community
You can hear our Ukulele Band performing at these events!
April 20th, Bynum Bridge Fest
April 27th, Day of the Books in Siler City
May 5th, as part of the Clapping Hands Farm Big Wonderful Variety Show at Shakori Hills Festival
Clyde Fest (date TBA)
As well as at our fundraising parties scheduled throughout the year.
alex nelson's recording project and gofundme!
Supporting each other in our creative adventures is something we are GOOD AT here at Clapping Hands Farm! So I wanted to let you know that our camper turned counselor turned lead teacher: Alex Nelson, is raising money for a recording project and I am super excited to hear his EP! Donate here: https://www.gofundme.com/alex039s-ep-fund
new website!
Our new website is LIVE! www.ClappingHandsFarm.com
It has a calendar where absolutely all of our workdays, workshops, camps etc. are listed! It has video's and wonderful photos and gobs of information! Check it out and send your friends!
---
thank-you!
Fundraising Letters— we've had a lot of great help from 23 volunteers sending out fundraising letters! Thank you! Together we have written 175 letters and raised $3530 from 22 donors and we are NOT DONE YET! You can still help do this! (see fundraising volunteer section above!)
Chief Bottle Washers! Thank you Pam Fleischauer for washing our camp water bottles and Joelle Brummitt-Yale for taking a huge bin of really disgusting food containers and bringing them back clean!
A lively crew of volunteers cut and hauled firewood and removed trees that had fallen in pathways and project areas on our WORKDAY January 19th . Thank you! Walker and Michael Smith, Bob Schmidt, Louise Omoto Kessel, Chuck and Astrid Lieppe, Cosmo and especially Mardi Magoo—- CHF volunteer coordinator who got everyone there! Our winter workshops appreciate the warmth! We have several more workdays scheduled (see volunteer section above!) Let us know if you'd like to help!