One of my favorite memories was the first time I came to camp. It was a Teen Camp Fire. I had never been to camp before and everybody just welcomed me with open arms and I watched the stars with my new friends that night.
UPCOMING EVENTS!
family campfires
We have one more family campfire scheduled before summer, so come on out! We love gathering with our camp community all year long! 
Friday, April 5,  from 5 p.m. to 9 p.m.
     Weather Make Up Day: Sunday, April 7, 5 p.m. to 9 p.m.
Family Campfires Spring 2019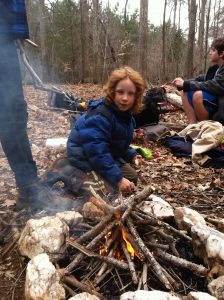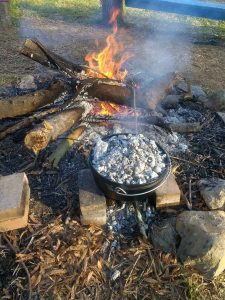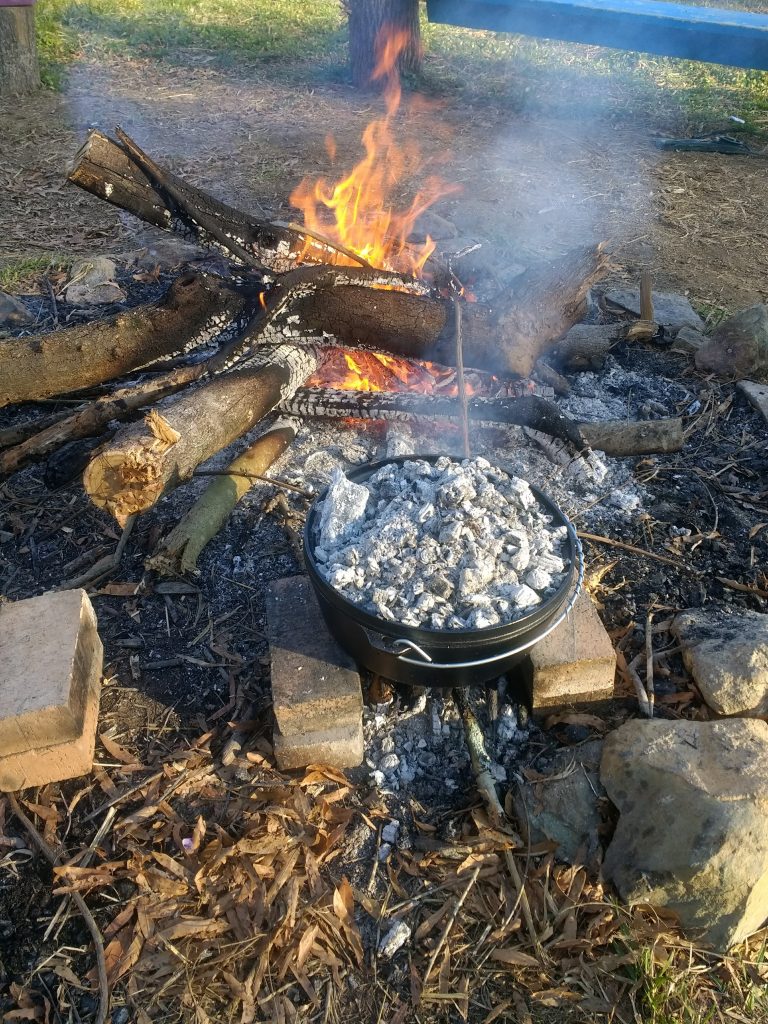 spring events in the community
Hear our Ukulele Band performing at…
Clyde Fest, April 6, Bynum Ball Field
Bynum Bridge Fest, April 20th
Day of the Books in Siler City, April 27th
as part of the Clapping Hands Farm Big Wonderful Variety Show at Shakori Hills Festival (May 2-5), May 5th
Volunteer with us for any of the events above!
---
In the newsletter you will find:
events we are presenting at in the community
Clapping Hands Farm Community Gatherings
Work days and other volunteer opportunities
and all the current registration information about upcoming classes
and all the Clapping Hands Farm news!
Keep reading below for information about our year round PROGRAMS! 
---
 tuesday art camp for homeschoolers
TUESDAYS from 9 a.m. to 3:30 p.m.
Recommended for ages 8-16 (older campers welcome; younger campers accepted on a case by case basis)
REGISTER - ART CAMP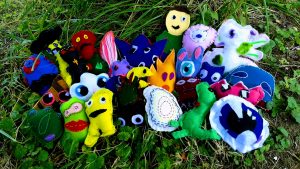 ---
Each SESSION will feature two morning workshops, Campers will choose ONE of these workshops to focus on in the mornings.  Then after lunch, we'll have an array of maker workshops ranging from fine arts to engineering
challenges; from fort making to fire making, from songwriting to movie making. Campers bring their own lunches, snacks and water bottles. We provide all the art supplies, skilled working artists as teachers. and warm loving camp staff with exceptional people skills. Clapping Hands programs are strong on diversity, inclusion and community building and Art Camp will be no exception!
Our pricing includes incentives for signing up EARLY and signing up by the SEMESTER instead of by the Session.
Sibling Discount- If one family has more than one camper take an additional $20 off the fee per camper per session.
Need a scholarship or a special payment plan? There will be a place on the registration form for you to request that. Or you can contact camp director Louise Omoto Kessel at clappinghandsfarm@gmail.com if you have questions.
---
session one: september 11 – october 30, 2018
Eight Weeks. $450. ($425 if you sign up and pay by August 31; $400 if you sign up and pay for BOTH Fall sessions by August 31.)
Costume Design and Sewing with Mardi Magoo!
Carpentry and Construction with Bob Schmidt
Sarah Perry, on site director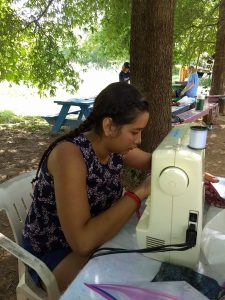 Mardi Magoo is a wizard with a sewing machine and a costume designer by training and trade. She is also a Clapping Hands Farm long time favorite. If you have a vision of a costume you would like to create she can help you manifest it. If you would would like help designing a garment for your everyday wardrobe, instead of a costume,  she can definitely help with that as well.  We have a small fleet of sewing machines so people in this workshop will all be oriented to the basics of machine sewing.
---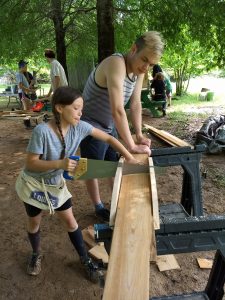 Bob Schmidt is a homeschooling dad and handy person extraordinaire. Last Spring he led campers in building a shed where we greet campers in the morning and house our lost and found in. We are still pondering what we will build this fall. We will definitely outfit the interior of our "welcome shed" with shelves and hanging bars and wall pockets to hold all our registration materials. Other possible projects include a shed in the back field for our sports equipment, picnic tables, and benches. Campers in this workshop will learn to use saws, hammers, measuring squares, and other tools.
---
session 2: november 6 – december 11
with December 18 reserved as a weather make up day.  Six Weeks PLUS at least one selling day. $350 ($325 if you sign up and pay by August 31; $300 if you sign and pay for Both Fall sessions by August 31).
GIFTS and PRODUCTION ART with Louise Omoto Kessel and Mardi Magoo. The idea here is to create gifts for loved ones and to produce art to sell. We will have at least one opportunity to SELL stuff scheduled in December. Campers who are interested in producing art to sell will also get individually coaching on marketing their wares.
Mardi Magoo will lead simple sewing projects including machine sewing projects and hand sewing projects (such and the ever loveable goofy sock toys!)  in the morning. In the afternoon jewlery creation, ornament making and who knows what else!
Louise Omoto Kessel will share projects involving fabric decoration techniquies such as printmaking, stencils, and batik. As well as some of her favorite toy making projects.
The format for SESSION TWO will have many projects that can be completed in a day and the freedom to go back and forth between teachers and projects as things get completed.
---
session three: january 8 – february 26
with March 5 reserved as a weather make up day.  Eight Weeks. $450.  ($425 if you sign up and pay by December 1; $400 if you sign up and pay for BOTH Spring sessions by December 1.)
OUTDOOR EXPLORERS- The Art of the Naturalist! Outdoor skills, hiking, botany, tracking, and more!
ART WITH LOUISE- still deciding on the topic here. weaving projects including basket making out of recycled materials and techniques for making belts and straps with beautiful designs is where I'm leaning.
---
session four – March 12 – May 7, builders camp!
NO CLASS ON APRIL 16. Eight weeks of camp. Weather make up day reserved on May 14.  $450.  ($425 if you sign up and pay by December 1; $400 if you sign up and pay for BOTH Spring sessions by December 1.)
MARDI MAGOO— Pattern Making and Sewing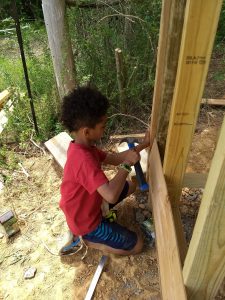 BOB SCHMIDT— Carpentry
plus other guests for Take Apart & Fix It workshops, Engineering Challenges, Fort Making, and more.
NOTE: our March 26 Art Camp day will happen concurrently with our first day of Spring Break Camp. The focused classes for Art Camp campers will be protected and go on as usual. The afternoon Anything Goes choices will be expanded and happen together with the Spring Break Campers, and Art Camp people are welcome to stay until 5:00 p.m. at no extra charge.
There will be no Art Camp on April 16, as we will be running our second week of Spring Break Camp that day and we expect a bigger group that week. Art Camp participants can sign up for the April 15-19 Spring Break Camp by the day or by the week, but there will be a separate charge for it.
---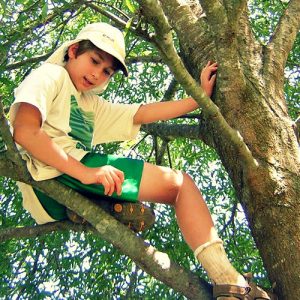 anything goes spring break camps! 2019
Ages 7-13, 9 a.m. to 5 p.m. $250 for the week; $60/day.
We will have TWO weeks of Anything Goes Spring Break Camp
March 25-29 (Chapel Hill Carrboro , Haw Bridge, Empowered Minds Academy, Willow Oak, Durham Public  Schools have Spring Break that week)
April 15-19 (Chatham County Schools and Emerson Waldorf have Spring Break that week)
2019 CAMP REGISTRATION
---
ukulele program! fall-winter-spring!
Please see our Ukulele Program page for all the details on our Ukulele Band practices and performances! Plus upcoming workshops!
---
outdoor explorers
We ran a wonderful Outdoor Explorers program last year on Friday evenings. We have heard you that you miss this program! We do have an Outdoor Explorers option during our winter session of Tuesday Art Camp for Homeschoolers. And I'm trying to figure out the staffing to revive the Outdoor Explorers at Night program. . . . . but I'm not 100% sure we have the human power on our team to run it this winter-spring. If we can't bring it back THIS winter-spring—- we'll be looking for options to bring it back when we can. HOWEVER at the very least we will have a couple of FAMILY CAMPFIRES in the new year in order to get us outdoors at night frolicking around the fire!
songwriting workshops
Emma's Revolution's workshop in October was so wonderful we've decided to have a Songwriting Workshop SERIES! Shana Tucker, Kathleen Hannon, Reggie Harris and Vessna Scheff are all interested in leading one! check back for details!